As I am reading through the thousands of blogs I follow daily, I am sad that I have not finished any furniture reveals lately for all of you. I see other bloggers creating so much pretty stuff, and I wish I had pretty stuff of my own to show off.
I took on more work by adding my furniture to a second shabby chic store, and yet I "haven't had time" to paint any more furniture lately.
Speaking of, here's a flier if you're in the KC area and checking it out this weekend…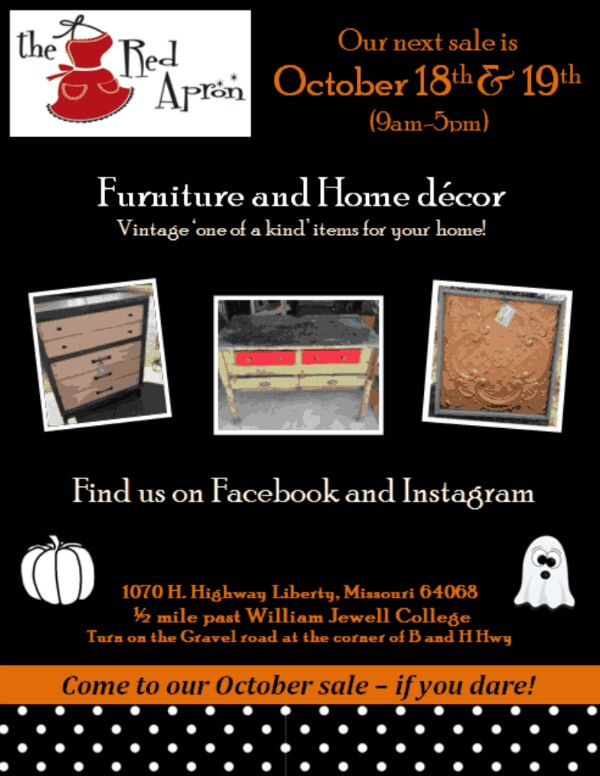 Yet somehow I've had time to watch a lot of Criminal Minds for hours after work…
It's unfortunate because the days are already getting so much shorter. Before long, I really won't have any hours afterwork to work on projects. If you've ever painting something after dark, even with all the lights on, you know what I'm talking about. As soon as you see it with some natural light, you notice all the places you missed. I just feel like I've wasted the last couple months not getting anything accomplished.
Will has also been working almost every Saturday morning that we would normally go find sales to buy furniture at. That has made things difficult since we need his truck to haul the furniture.
We will FINALLY be going this weekend and I really can't wait. I'm going to spend some time this week checking online so that I know what I'm looking for and where to look. I'm awful at planning ahead for this type of thing. Generally I just google estate sales when I wake up on Saturday and sometimes it's a huge bummer when I miss out on something awesome because I wasn't there early enough.
I only have one commitment this weekend for four hours. So hopefully the rest of it will be spent in the garage, creating beautiful furniture!
I do have a headboard that I haven't shared with you guys yet, so I think I'll take photos and share them with you tomorrow! I will warn you that it's hard to make a headboard look great when it's not attached to a bed…
Comments
comments