One of the scariest things about this blog is that it's kind of a decor/furniture blog, but I'm not even sure I know what my "style" is, or if I know enough about it to be qualified to even be blogging at all.
In fact, I know I'm not qualified.
I run every idea I have by my mom, my sister and at least 10 other people. And a lot of the time they tell me that whatever I'm thinking of might not look quite right where I have it pictured. They also told me that to acquire their own style, they read and copied 100s of decor magazines. So that's encouraging.
But the other part of not being sure of "my style" is that I feel like I'm not cut out for a certain style because I'm missing X, Y and Z personality characteristics.
For example, my mom and I have been talking about what kind of wedding I would want. Yes, I'm crazy. No, I'm not engaged, even though everyone thinks so right now because of this photo on Facebook.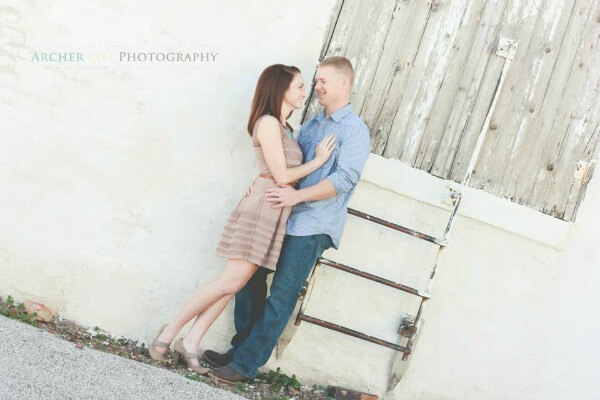 Will's sister is just awesome at photography (as you can tell) and offered us a free photo shoot, so we took it. (I'd be lying if I said I wasn't hoping for a special moment, but all in good time, right?)
So anyways, I've been telling my mom that I kind of have a vintage wedding pictured when it comes time. But then, in the back of my head, I'm wondering if that makes any sense with my personality. I mean, I didn't grow up "junking" and garage saling and finding old treasures and actually treasuring them.
To be honest, I love the furniture aspect of vintage stuff, but I have a really hard time deciding if I like the little things, or if they're just junk. Sometimes, used stuff actually really grosses me out and I just want something that no one else has owned. But hey, I can appreciate a lot of it, just not ALL of it. So then I start thinking that since I don't love ALL things vintage, I can't possibly describe my style as vintage, and maybe it seems hypocritical to want a vintage wedding some day?
Another example is with my booth. Sometimes I feel inauthentic because I haven't ALWAYS loved shabby chic stuff. I'm so jealous of those people who can say they loved "junking" and "picking" before it was cool. I didn't. I didn't even know that world existed until it was cool and when I was growing up I used to completely dread antique shopping with the ladies in my family.
I guess my point here is that, shocker, you CAN over think something as simple as style. And if you like it, it's YOUR style. Even if you decided you liked something today and change your mind tomorrow, it was still your style for those few fleeting hours.
You don't have to swear off new things to love vintage. And you don't have to be creative and paint all your own stuff to love shabby chic.
Don't feel like you have to pass some secret test to be authentic. Anything you like, and everything you love, can be a part of your style. 
Comments
comments