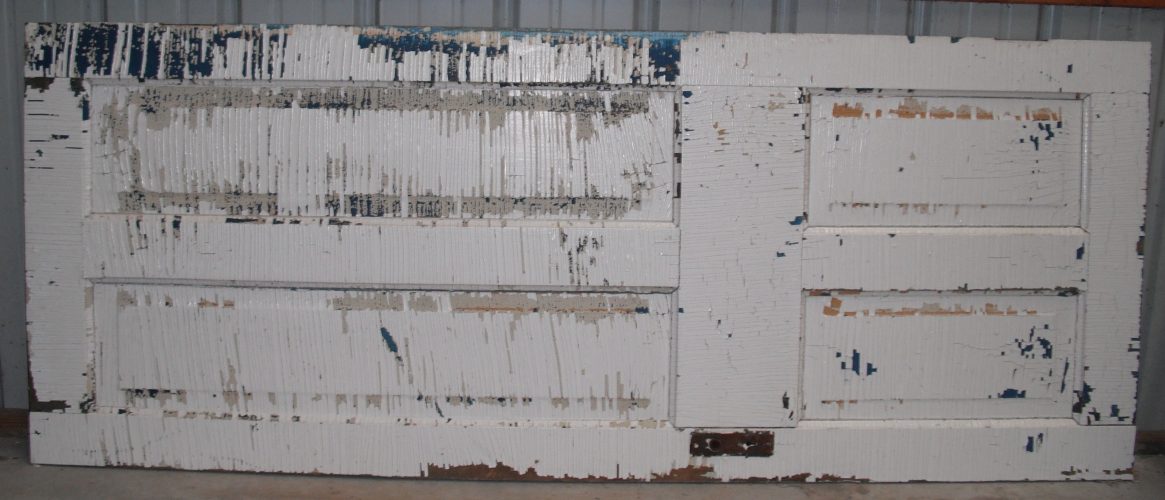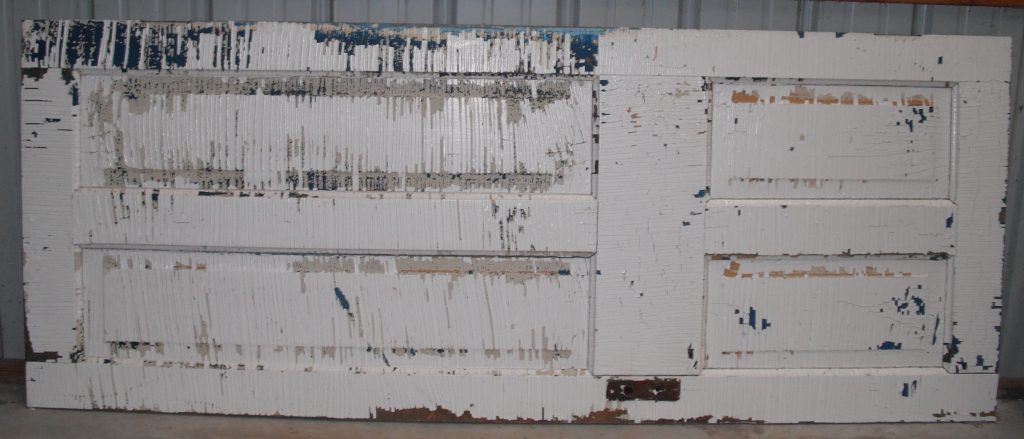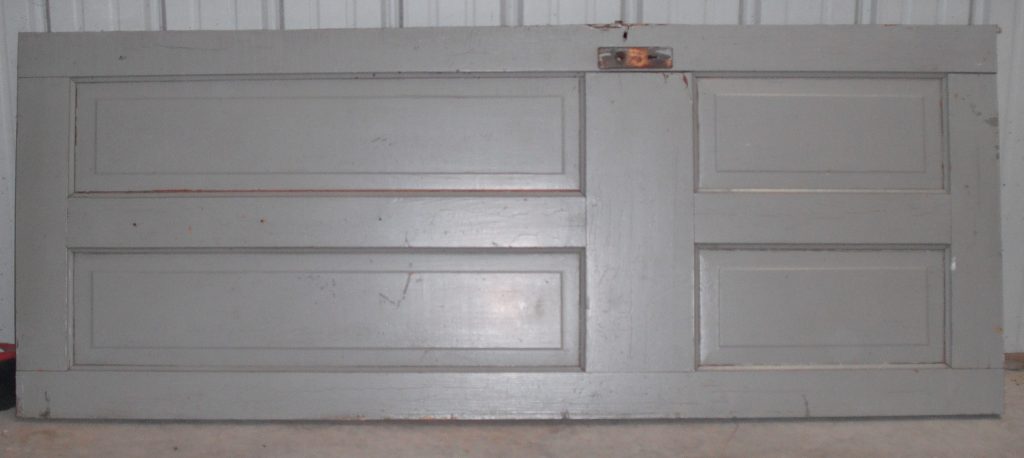 This is a really neat old door that I found in my mom's collection of random stuff saved from remodeling their house. She saved things that she thought might come in handy for decorating at some point, and it has! My mom's place is like a mini primitive/antique store in itself – at least to me since I'm not very experienced yet. (Some day I'll post pictures of my mom's decorating style. Most people refer to their house as homey or cozy).
These pictures are both sides of the door that have obviously been painted very different colors, but it was perfect because it didn't really require a lot of work to make it look "distressed".
I had my dad cut a few inches off of one end with an electric saw (eventually I'd like to learn to do this myself, but for now he gets all the credit for the hard parts of my projects) just to make it a bit shorter so it will have less of a hangover when it's centered above my bed.
I decided to use the gray side for my headboard. Although it has a little less personality, it coordinates better with the colors of my room. As for the other side, my mom and I brushed off all the loose peeling paint with a wire brush and then applied a layer of polyurethane to keep the rest from peeling further.
I painted the ends a turquoise color and added some strokes of turquoise onto the gray side to create the appearance that it was a base color on the door before it was painted gray. We tried to make the strokes very subtle so they aren't really noticeable but will still help tie the headboard in with the rest of my room. We used the paint brush that was used to paint the ends once it was almost dry so that it just left smudges of paint instead of streaks.
My Handy Dandy Dad did most of the work to hang up my headboard for me. Ok, actually, he pretty much did ALL of the work.
My dad hung the door on the wall behind my bed using a "Picture Hanging System" made by Hangman. As far as I can tell, that's actually what it's called. It says on the package it is used to hang mirrors, pictures, and wall decor. The ones we used were 18″ and supposed to hold up to 200 pounds, and so far they seem to be working. My dad had two of them and attached them to both the wall and the back side of the door, then they interlocked together resulting in a hung headboard!