This shop has been compensated by Collective Bias, Inc. and its advertiser. All opinions are mine alone. #HallmarkForMom #CollectiveBias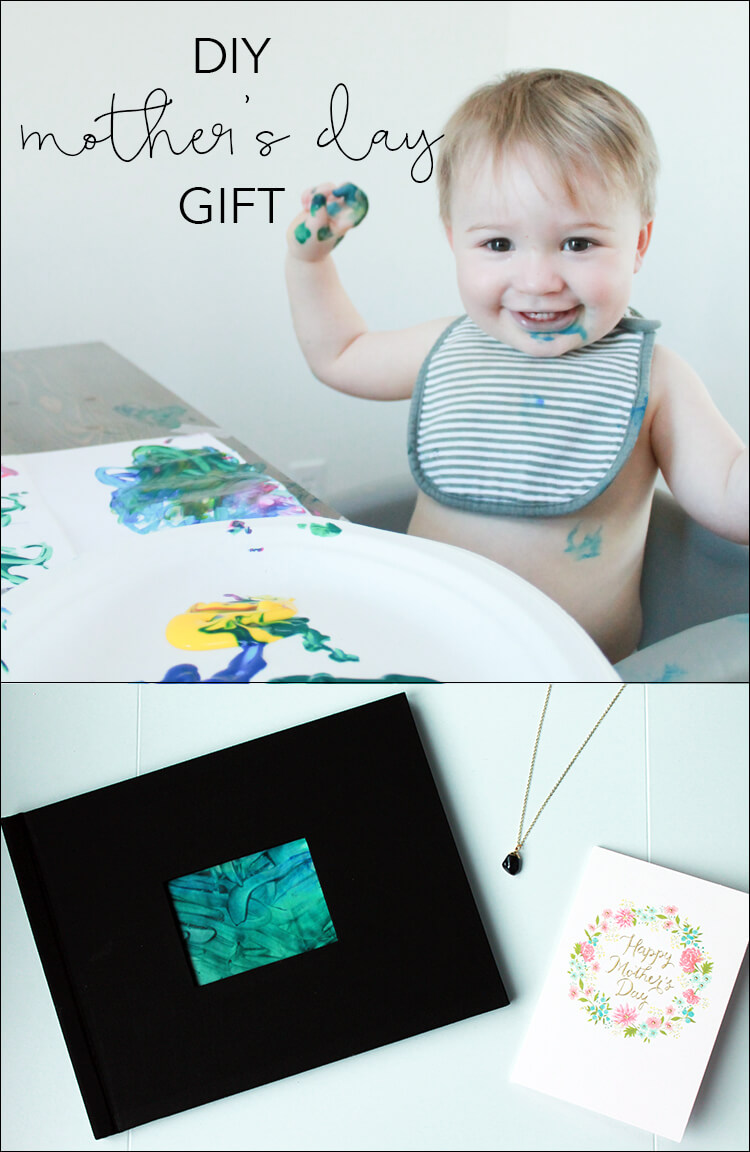 Mother's Day is so much more fun now that I have a baby – and not because it's celebrating me, but because we can get back to more fun ways to celebrate my mom. You know, all those hand made projects and corny t-shirts that were always fun to make as a kid. So this year Graham and I put together a DIY Mother's Day gift for our beloved mom/grandma.
This was Graham's first finger painting experience, such a fun project! It only took about 10 minutes to set up and then he was free to start painting.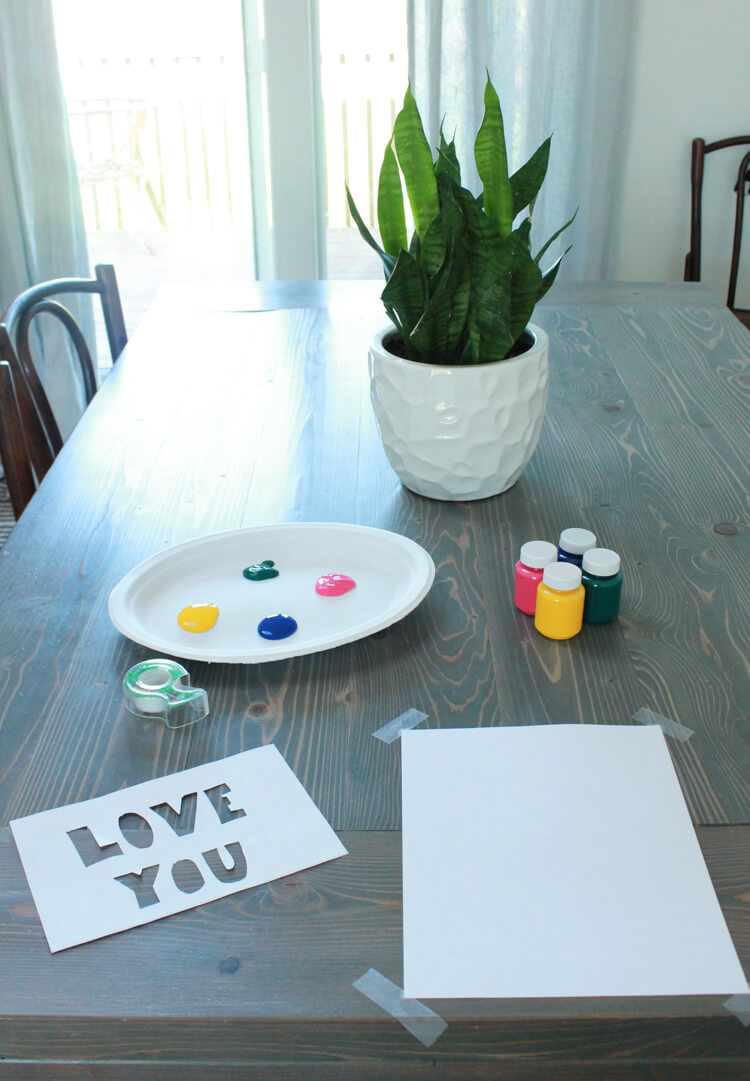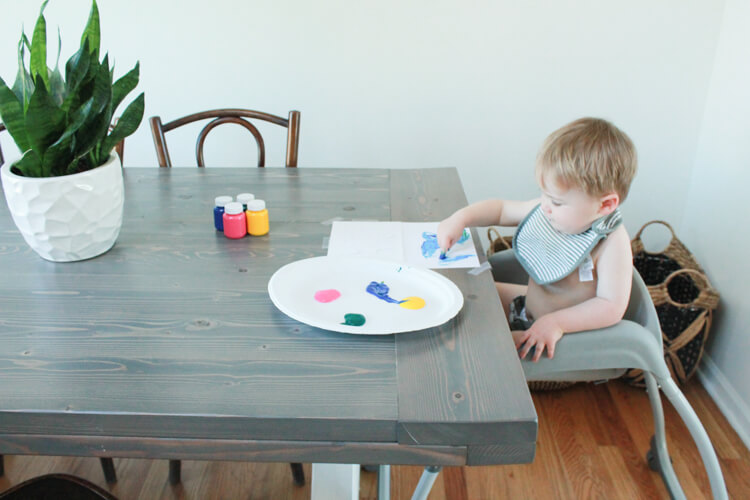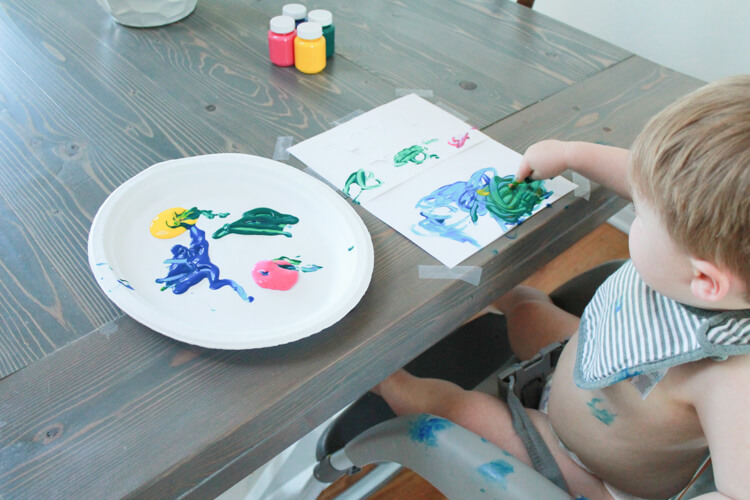 First I taped a few pieces of computer paper to the table. We'll only use the top one but I felt like using a few kept the top piece more sturdy and less likely get to get soggy and rip.
Then I used an exacto knife to cut out the words "LOVE YOU" from another piece of paper. I'd recommend using thicker paper for this so that the edges of your letters don't pull back during the painting. My stencil only covered half of the page so he could also have a place to paint freestyle. :)
I used a paper plate for paints (the super washable kind), dressed Graham in nothing but a bib and let him get to work.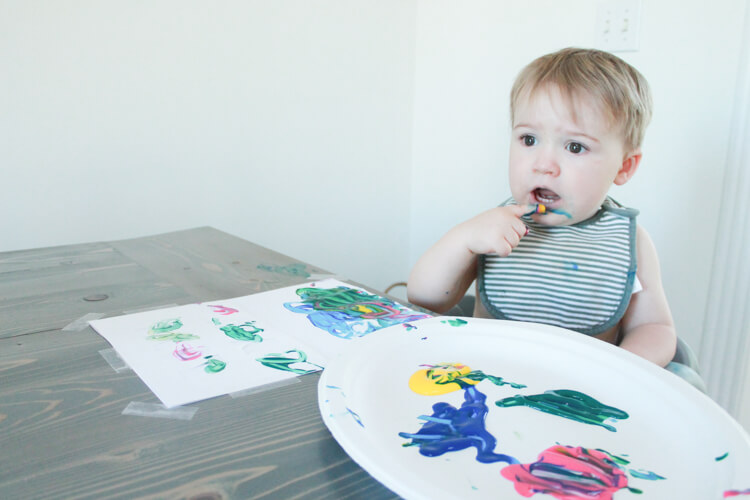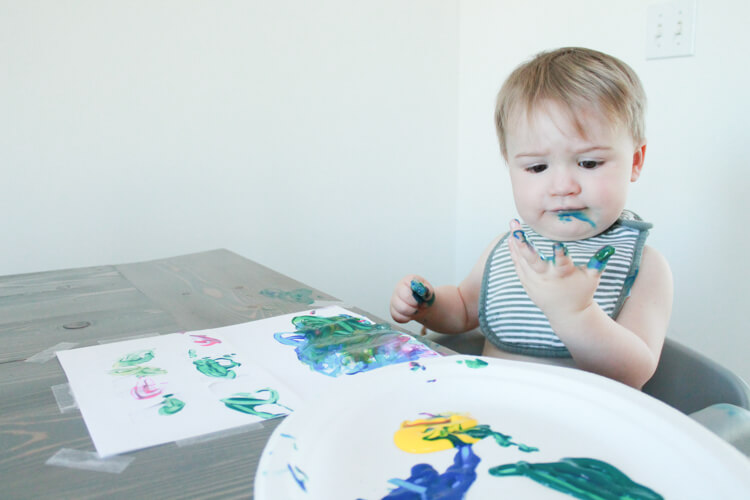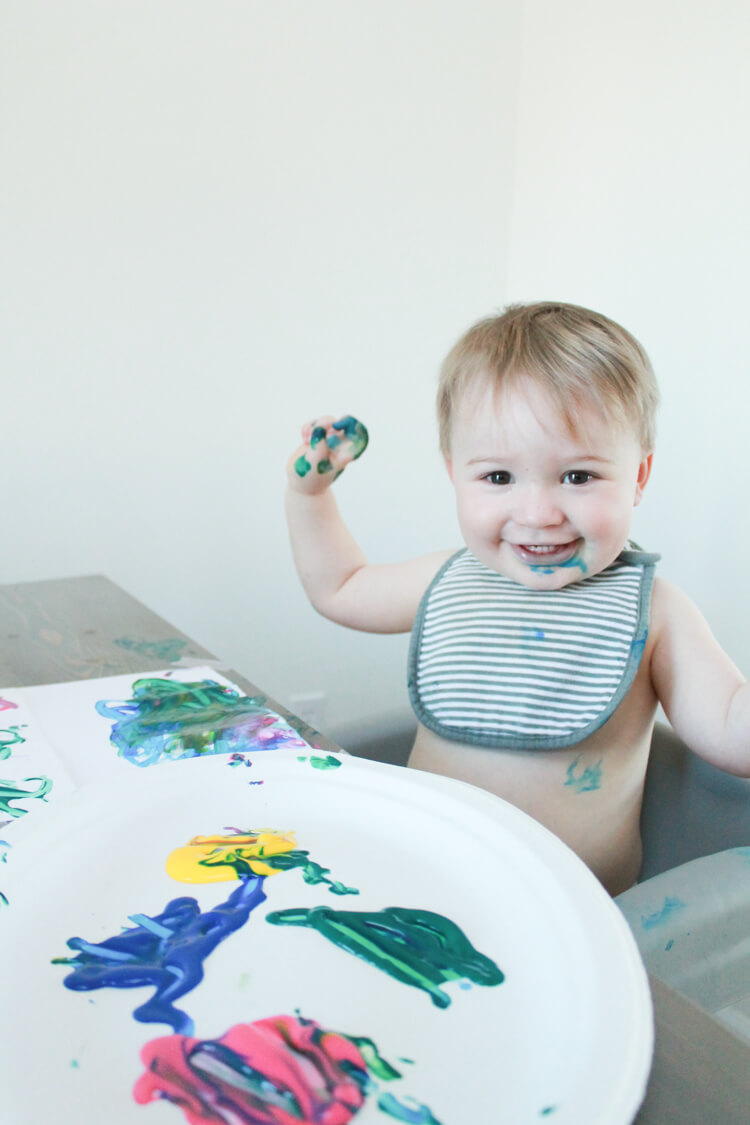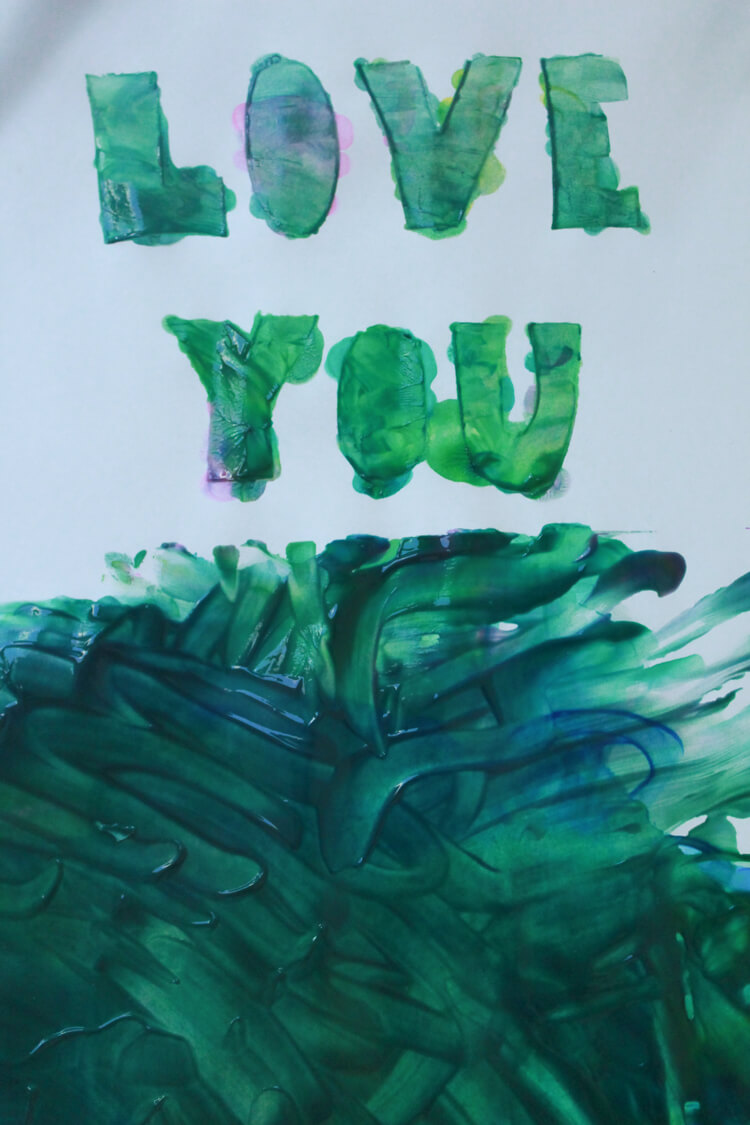 He did try to eat it a couple times, as you can see. Whoops!
While we waited for our picture to dry, I made a little 1-hr photo album online. I included almost every picture I could find of my mom with Graham, as well as some of our favorites from the past year and a half (Graham's whole life). I'm excited about this photo book because most of these pictures were taken with cellphones and rarely get printed out. It'll be fun to be able to look back on photos that we forgot we'd taken!
While picking up our book from Walmart, we also picked out a card. The Hallmark Signature collection has so many adorable cards and messages to choose from, and they're available for all holidays and seasons. Right now there's an Ibotta offer on Hallmark Mother's Day cards, so don't forget to cash that in too. This is the one we went with. So cute!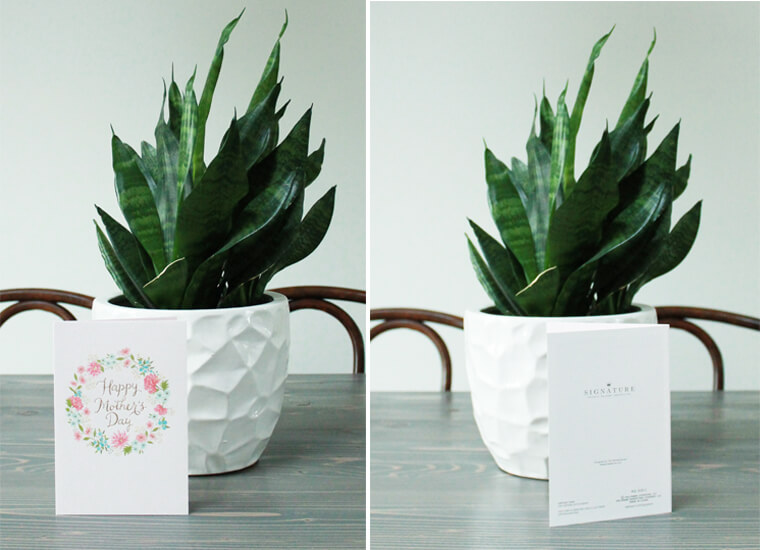 And we picked out this one for our other mom/grandma. It has a felt front and is super cute too!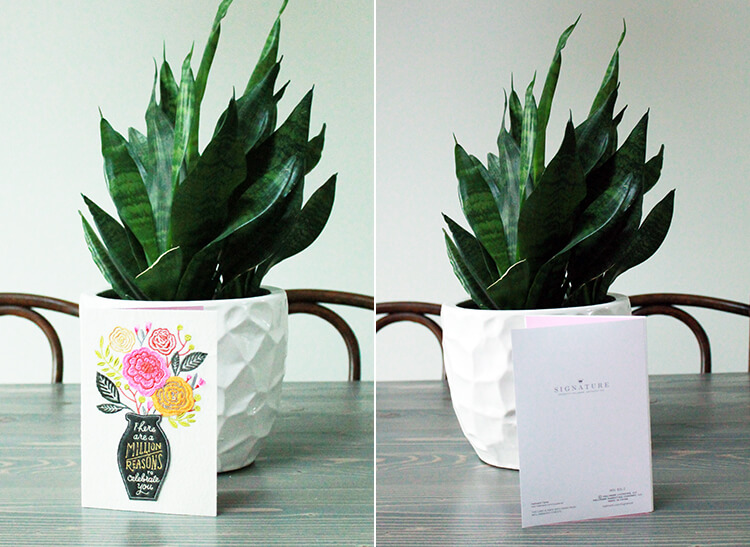 To finish everything up, I taped Graham's art into a few of the blank spots in our photo book. I love how perfectly imperfect they are and how he's able to contribute something to our gifts now. It makes them that much more special. And of course he'll need to sign the card before we hand it over, I'm sure with lots of scribbles and a few tiny circles.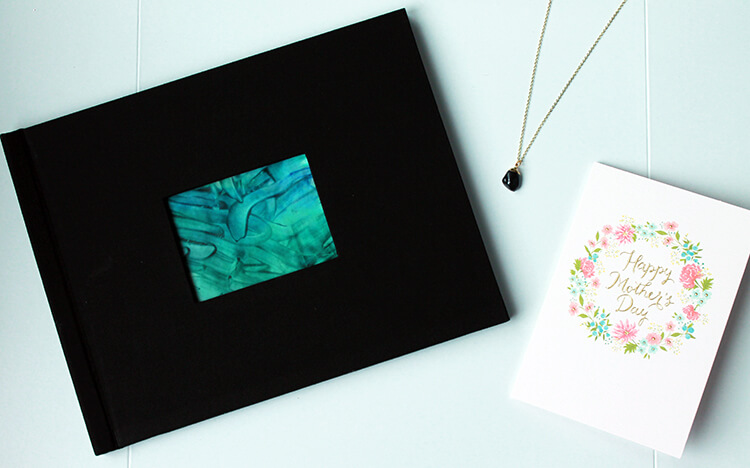 We love giving paper cards for every holiday, especially the ones like Mother's Day when they can help us express exactly how we feel about someone special, and the Hallmark Signature line helps us do just that!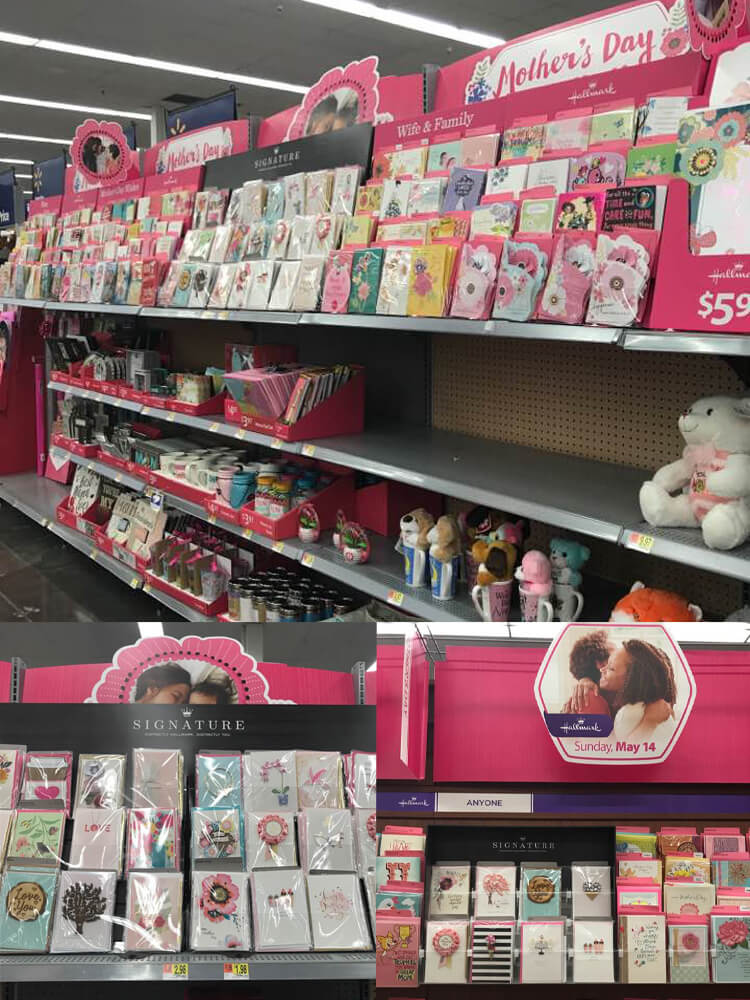 You can find more coupon offers and Mother's Day inspiration here.