I'm really starting to get excited for the wedding now, especially the desserts, now that I've finally finished this banner! Between this and the cake topper, I'm feeling like yesterday was a pretty productive day. If you're not impressed, I also cleaned out my car and cleaned up my garage a bit.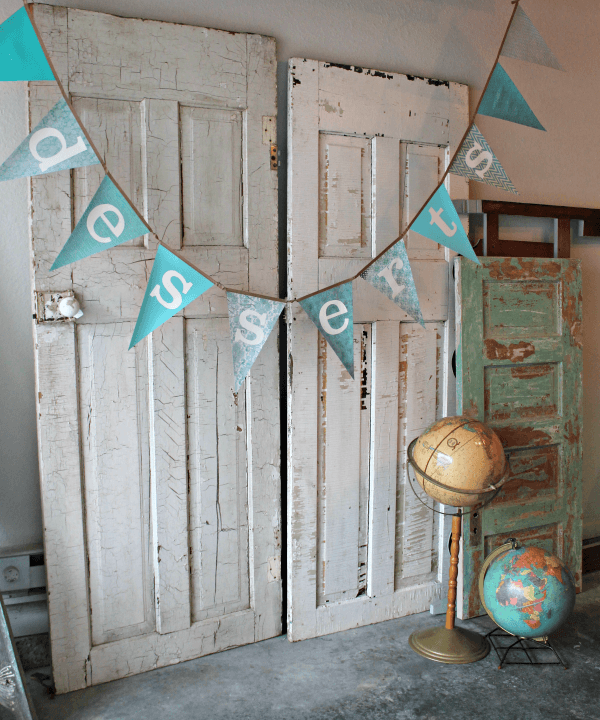 This was pretty easy to make. You can buy a plain banner at Hobby Lobby, and we just picked out pretty scrapbook paper in different shades of turquoise/blue for each little triangle. Then we printed out the letters on regular paper and traced them onto some ivory construction paper and glued them on.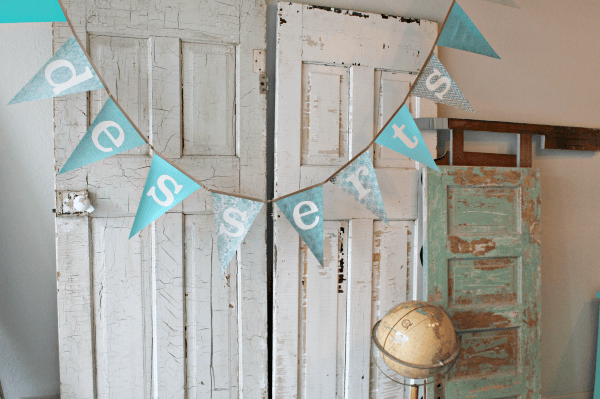 I've had these doors in my garage since I gave up my booth in the West Bottoms and I've been using them as a backdrop for photos of my painted furniture. I thought it would work well for this too, especially since I could hang the banner from the top of the garage door opener.
After sending a picture to my mom and sister, they suggested we use them at the wedding behind the desserts table, too! I guess if they're willing to pack them out the next morning, I think it's a great idea. I'd love to help, but I'll be on a plane to Mexico by then!
Now my next major task for the wedding is picking out the music. Yes, the wedding is a week and a half away and I have yet to pick out music. There's just so many options out there that it's so hard to narrow down! When I ask for people's opinions (something no one usually holds back when they don't like something) everyone just says that it's up to me.
And I understand picking out a song for walking down the aisle (leaning toward something traditional here) and the first dance, but the cake cutting song?? Come on, I never realized that people pick out a specific song for cutting the cake. Too much work! I mean, who even cares?
How did you/would you pick out your wedding music? Would you do something original or stick to the traditional music for the ceremony?