So I've been thinking alot lately about my actual decor style. I don't think we're quite there yet. Before I get too far into this, here's a peek at our living room right now.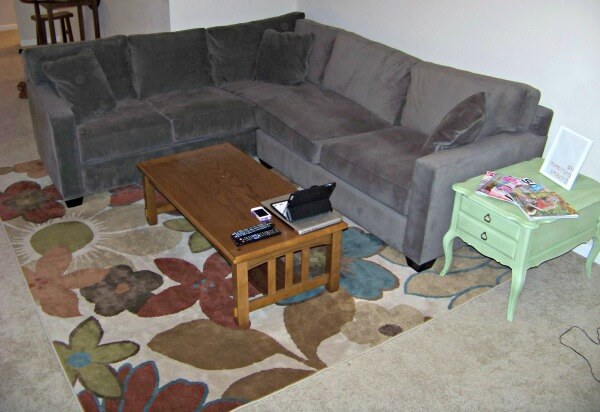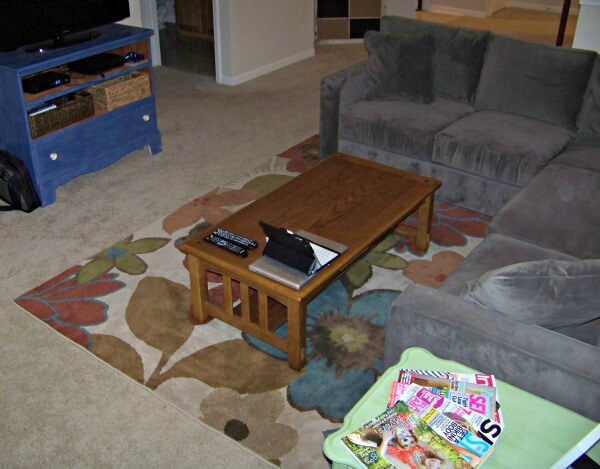 Ok – take a look at all those colors! Oh, let me mention, the wood coffee table in the middle doesn't count. That's a filler until I find something I like.
But here's the problem with painting furniture. I feel like I have to have painted furniture in my place if it's gonna be my main hobby. It would be like cheating if I didn't.
But then I feel like it's getting way too busy. I love the rug. I love the dresser/TV stand, and I LOVE the mint side table. However, I feel like it's too much all together.
I can't decide what I should make neutral and where I should add a pop of color? And if I do go neutral with all the furniture, do I paint it a neutral color? Like maybe the tanish color that's in the rug? Or do I stick with either black, brown or white furniture?
Unfortunately, I think with the gray couch and darker colored rug, white furniture is probably out of the question. I wanted a tan couch…that would have made all the difference. :( BUT, I wasn't the one with money to buy a couch and the boyfriend didn't want to feel like he was living in an 18 year old girls dorm room with super bright colors everywhere.
Anyways, any advice you have would be much appreciated!! I'm going to go surf Pinterest now…
Comments
comments