I get insanely jealous of the creativeness of really crafty people until I decide to attempt a craft myself. Then I remember why I usually skip that step and buy ready made items, like when I attempted this one.
Have you ever thought of all that goes into making crafts? And the huge mess it usually creates? My sister and I worked on making a desserts banner for my wedding and I'm pretty sure I'll be picking slivers of scrapbook paper out of my rug for a few months.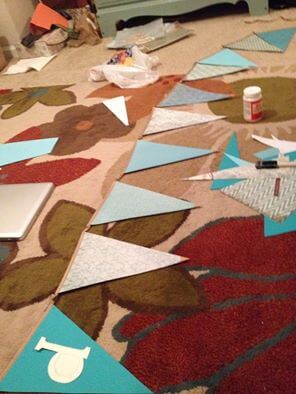 Here's how a typical craft project goes for me:
"Oh this is cute! It's how much??? $25 dollars? I can totally make that myself for cheaper."
"Okay, make a list. I need scrapbook paper in 17 different patterns and colors. Spray paint…I'll go to Home Depot Scissors…check. Glue…I think I have some of that laying around…check. Wooden spindle….I'll check out Hobby Lobby and Home Depot and that will be taken care of. Okay, let's go."
Drives to closet store, Home Depot.
"Spray paint in the only breezy shade of blue they have…check. That was easy!"
Drives to Michael's for scrapbook paper.
"How many scrapbook prints do you need with monkey's on them? I'm counting one, two, three….twelve. Seems a little excessive."
"Okay, these suck. Hobby Lobby will have more choices."
Halfway to Hobby Lobby…
"Crap. I needed to look for a wood spindle at Home Depot. I'll go back on my way back home."
Gets to Hobby Lobby.
"I think I'll look at the knobs first. You can always use more knobs."
"Should probably peruse through the fabrics aisle. Maybe I"ll make some pillows when I learn to sew."
"Sale aisle next."
"Okay, what was I here for? Oh yah, scrapbooking paper."
"Alright, these choices are way better than Michael's. Still a lot of monkeys though.."
Spends 25 minutes picking out scrapbook paper.
Getting ready to check out.
"Oh wait, I need to check out the wood aisle for a wood spindle."
"How is it possible that I could make the most intricate doll house in the world from all these supplies, but they don't have any spindles?"
"Do that many people really make their own dollhouses? It would cost about $1000 to buy all these things!"
Finally gets back in car to head home and start on craft.
Walks in, gets everything out…
"Pretty sure I spent $35 dollars when I could have bought it for $25…"
"Oh well. I'll get more out of making it myself."
"Oh crap, I forgot to to go back to Home Depot."
"Hmm..Grey's is on. I'll go at the next commercial break."
Puts project in corner and forgets about it for 4 months.
In fact…that pile right there: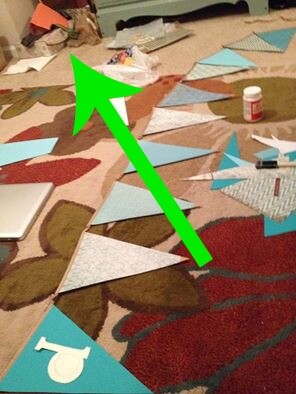 That's where my craft supplies go to die.
When I do actually carry out a craft idea, then I have hand craps from cutting, back aches from hunching over to get my face as close to my work as possible (it's necessary), and manage to smear mod podge all over my carpet.
Painting furniture is definitely more my thing.
Do you ever actually finish the craft projects that you start?
Comments
comments