Today I'm sharing my favorite fall outfit – a chambray shirt with corduroy pants. It's super simple to put together and gives off the perfect fall vibes!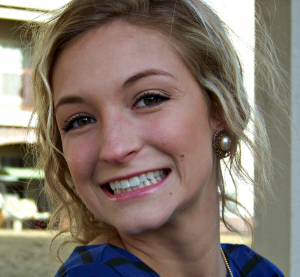 Hi, I'm Ashley!
I live in my sister's closet.
Okay, not really, but as Kala has promised, I will be the face of the virtual closet inside her Breezy Room.
I am currently a college student with a major in Merchandising of Textiles, Apparel, and Furnishings.
When I am not working or in class, I spend my time with the craziest of friends (who for some unknown reason refer to me as "Noodle"), play with new makeup/hair tricks, work on Pinterest crafts, or go on the ever-so-often T.J. Maxx shopping spree!
My very favorite things obviously include hair, makeup, and pretty clothes…but also consist of crafting, decorating, and laughing until I cry (which doesn't take much!).
You may wonder how I discovered my love for beauty. Well…it stems way back from the second grade with my very first blue eye shadow purchase (which I ever-so-sneakily placed into my mother's shopping cart).
Ever since that beautiful disaster, every sleep-over and birthday party turned into "Ashley's Beauty Parlor" as I begged my elementary school friends to let me test out my awesome makeup artist skills on them.
After irritating their mothers time and time again by showing up at home with mascara all over their faces, my friends finally wised up and forced me to practice on myself. That's when I found interest in sitting in my room for hours upon hours teaching myself makeup and hair tricks.
With all this said, I really hope my years of passion and dedication to all that is beautiful will be of use to all of you, and maybe even stem some new fashion/beauty endeavors for those of you who might be a little hesitant to step outside of your box!
For my very first post, I decided to show you one of my very favorite outfits.
Chambray Shirt with Corduroy Pants

This includes my Chambray shirt (similar here), burnt orange corduroy pants (similar here and here), brown leather boots (Luichiny from Heels.com), and my most worn article of clothing – my plum infinity scarf which I received as a gift from my aunt (similar here). I just love that thing!!
The purse and the sunglasses are also T.J. Maxx purchases, both Steve Madden creations.
(You will come to find that I am quite the Maxx-inista, as almost all of my clothes come from T.J. Maxx — it's pretty much my favorite place!)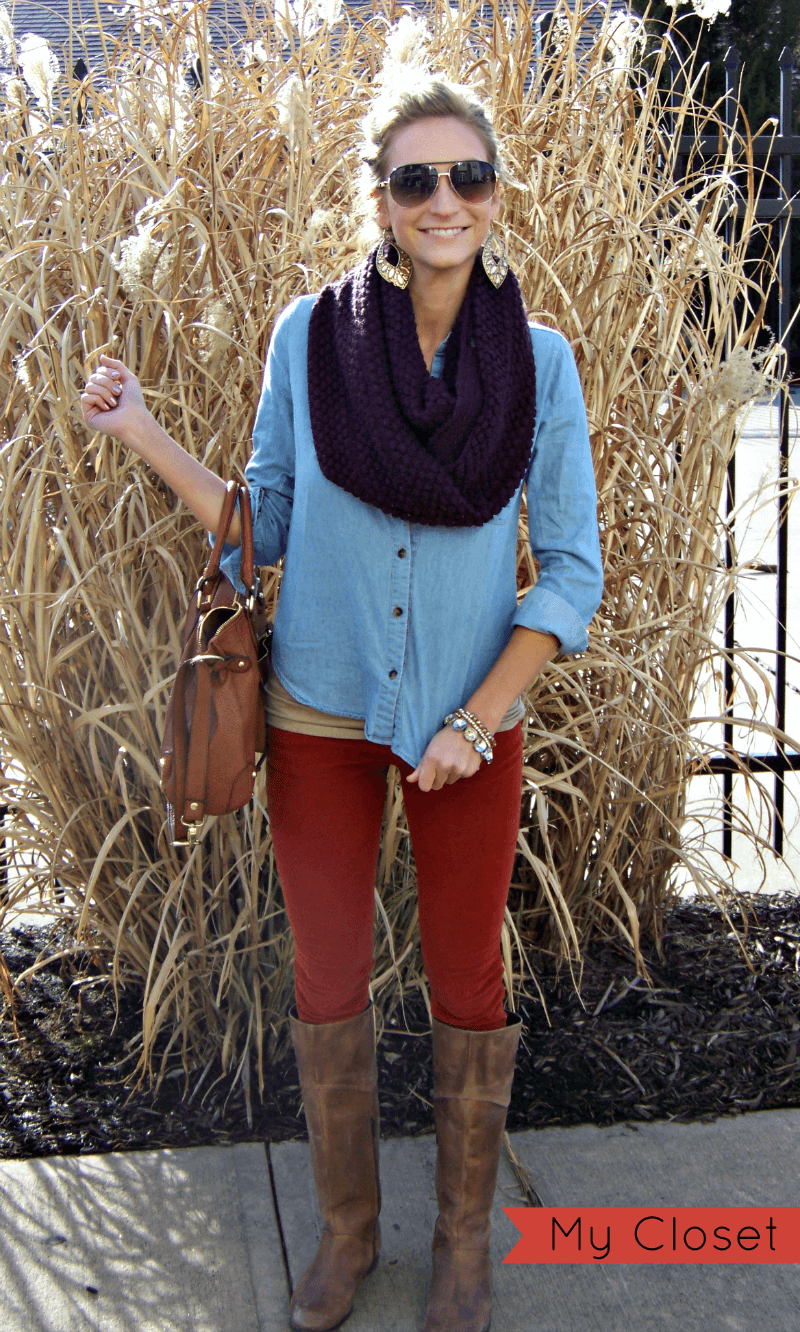 The reason I enjoy this outfit so much is because of the way I feel in it. I love that it's comfortable and easy, yet still has color and texture to spice it up and show my style and personality. And that's all you really need to pull off a chambray shirt with corduroy pants! It's the little statement pieces that make all the difference!