A canvas photo collage is a great way to fill up some wall space with a personal touch. It's easy to make and install (if you can even call it that). My friend, Kelly, shared with me how she made this neat little project.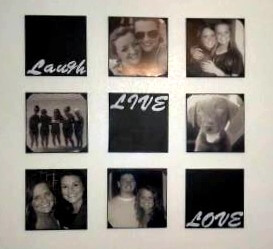 What you'll need:
– Canvas (a square amount, 9 12 x 12 pieces were used for this project)
– Photos Printed to the Size of Your Canvas (You can get large black and white prints from Office Depot for around $5. Color prints cost a little more.)
– Acrylic Paint (2 colors:1 for the background, and 1 for the color of the words)
– Stencils or Stickers
– Mod Podge
Getting Started:
1. Use 3 of the sheets of canvas for the words (you can skip this step if you are only doing pictures).
If you are using stickers, stick them on the canvas the way you would like them to look, then paint over the stickers with your desired background color (in this example: black).  Once the paint is dry, you can peel off the stickers and your letters will be white.
If you are using stencils, paint the canvas your background color first (in this example: black), then secure the stencils down with tape and make sure there are no bubbles. Paint stencils with your second color (white in this case) and let dry. Don't remove the stencils until the paint is dry and you may even want to put a couple coats of paint on to make sure your second color shows up better.
2. Use the other 6 sheets of canvas for your pictures.
Paint all edges of your remaining canvas the background color (black) used on the canvas with words. You may want to paint 1/2 inch around the top, bottom, and sides of the front of the canvas as well in case you find you need to trim your picture a bit to make it fit right so it's not hanging over the rounded edge of the canvas.
Once your paint dries, mod podge the canvas and roll the picture onto the canvas while smoothing out the bubbles. When that dries, mod podge over the edge of the picture to make sure it doesn't come up.
That's it! Now you're ready to hang up your new masterpiece! Kelly used sticky tack to hang hers up since they are so light. Nails work fine too!
Thanks for the great idea, Kelly!
Kelly also has a dresser in the works that we should be posting soon!
Comments
comments