We worked on so much wedding stuff this past weekend it flew by! The goal was to make my cake topper, find and buy bridesmaid dresses, attend our catering consultation and go to a bridal expo. We fully accomplished about 50% of those, and since two of them only depended on showing up, you can probably guess which two we were successful at.
Friday night my sister came over after I got off work, and we set out to go shop around and scope out potential bridesmaid dresses so that when all of us got together on Saturday, we would have a game plan. We had already found a dress we liked online, so we high-tailed it to that store. Right away we loved the dress! Then we shopped around for a couple more hours, found a lot of stuff we wanted and a lot of great sales.
On our way back to the car, I said, "Okay, so how many places are we going to in the morning?" "Um…Altar'd State and…" Well crap, we thought it had been a super successful scoping out trip but it turned out that all that stuff we found and loved did not apply to bridesmaid dresses. Oops.
So when my friends arrived Saturday morning, we had to explain that despite our efforts, we didn't actually come up with a game plan. So we headed to a different mall and looked…and looked…and looked. We didn't even find any turquoise-ish dresses at all in probably the first 10 stores we went in. We'd look at a store that we doubted had anything, but said, "Well ya never know" every time. It actually became a joke by the end of the day…because we knew. There was nothing.
So then we went back to Altar'd State to have them try on the dress we liked, and it turned out like this.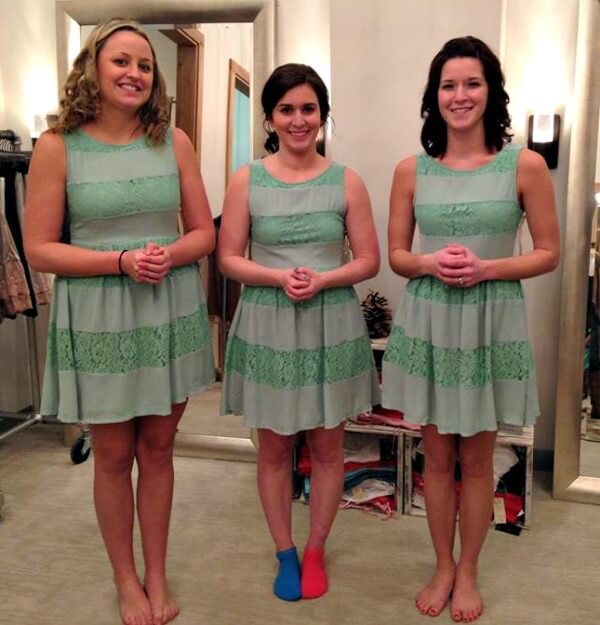 I think those dresses are sooo adorable (don't you think they go well with those socks!?), but the girls didn't feel like they flattered them very well, and I don't want to put them in something they feel uncomfortable in. So those were out.
I also had them try on these dresses, which looked really cute on everyone, but I think they're a little informal to be standing next to my dress. I really wish I could give you guys a link to my dress, but I'm afraid Will will be too curious and check it out, so I can't…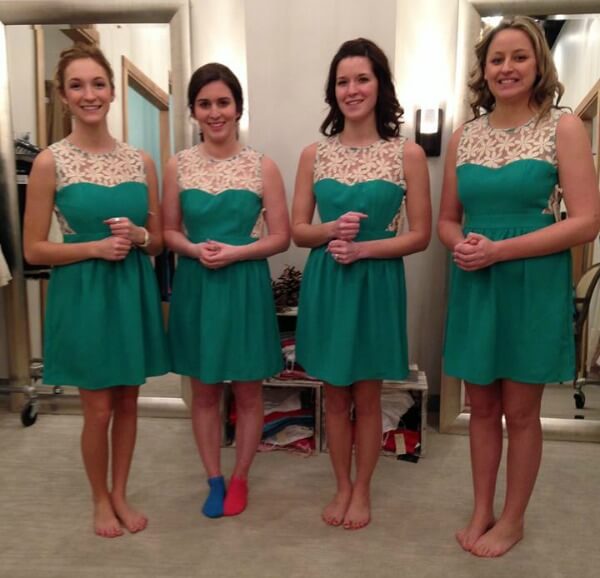 If the lace on top was a little more different, they would have been perfect. But the daisy print just made them look too informal.
I felt bad for dragging my girls around all day with no progress. :(
So since then my sister and I have been scouring the web for dresses we like. Our catering consultant actually suggested modcloth.com because she's in a wedding and said her bride ordered theirs from there and they turned out great. I checked it out and here's a screenshot of some of my favorites.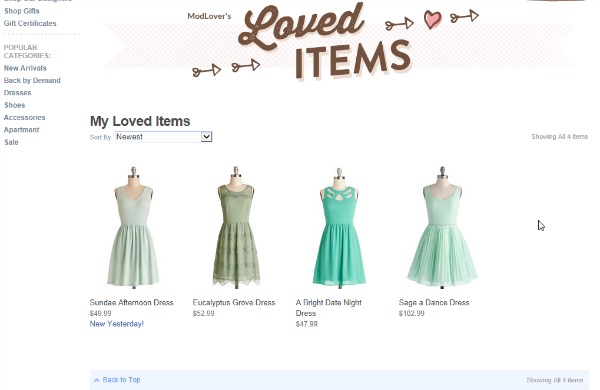 I love the second one, but my sister and I keep going back and forth about whether or not it is too green….I mean obviously it is, but it also looks antiquey/vintagey. I ordered one just to see what it looks like on!
Tonight I'm going to try to convince the fiance to let me use his money to order a ton of dresses in all sizes (small, medium and large) to see what fits and looks good and what doesn't. I mean, we'll be returning all but four of them…so hopefully he lets me! I am a bit spoiled, so I have high hopes!
Which dresses do you like best?
Comments
comments