You guys! Guess what? Remember how I was complaining yesterday about not being prepared for my booth? (Yes, I know I do that almost every day.) Well the furniture gods must have felt bad for me, because a small miracle was brewing while I was at work.
The boyfriend had the day off and was out frolicking with his best friend who I sometimes think he loves more than me. Well anyways, the were doing guy stuff, whatever that is, and drove by a house with furniture outside with prices on it. Sooooo…Will made his boyfriend turn around and he went to the door to see if he could by me some treasures…and he did!
Look at these!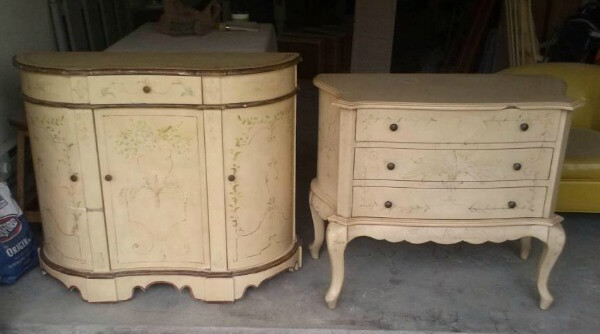 He also got one more that I don't have a picture of. Pretty sure it used to be a TV stand, but we're going to put a shelf in it since everyone has flat screens these days.
Before he found those little guys, I already had plans for him to trek 45 minutes away to look at the 2 pieces I also mentioned yesterday while I had dinner with some friends. He's so mistreated. And what do you know, he came home with both of them! I thought maybe one of them would have sold already, but nope, I got both!
So here's another horrible photo of them.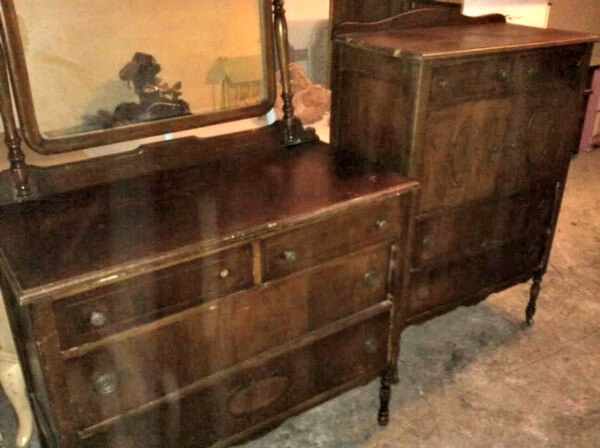 You guys just don't even know how excited I am about all of this! The drawers need a little bit of work, but I think they'll clean up really nicely! I can't wait to start painting everything this weekend. I have plans tonight and tomorrow night and it's killing me to know that they are all sitting in my garage just waiting to get some love.
So anyways, that's my new boatload of furniture. For a boat that is only big enough to fit 5 pieces of furniture! I guess I'm really not any more prepared for First Fridays since none of this is ready yet, but I'm so much more excited about it! AND next week you'll finally get some new furniture reveals!
Comments
comments