Hey guys! I'm so glad it's Friday today…!
I'm gonna go watch my little bro play baseball tonight, then tomorrow I'm volunteering at a Veterans Home Golf Tournament (of course it started getting HOT just one week before the tourney leading up to a 92 degree day), and then Sunday is Father's Day and the boyfriend gets done with his week of National Guard training!
So basically I'm going to be busy, busy, busy!
But I have some great news! I decided to just go for it and I signed a contract to be a vendor at Bella Patina in the West Bottoms of KC for First Fridays!! If you're not from here, you may have no idea what I'm talking about, but basically I'm opening a booth at a shabby shic/vintage/antique shop that is open the first weekend of every month!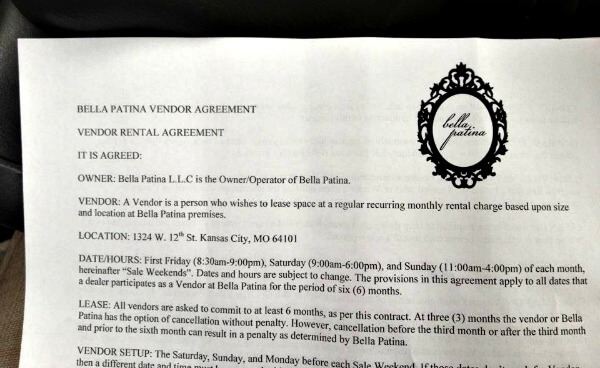 I'm so excited, and nervous, and terrified, and happy and scared! Ok I know there was one more negative in there than positives, BUT I think to truly enjoy doing something, especially when it involves a risk, it needs to scare the bejesus out of  you! And this kind of does.
I'm so nervous I won't make enough sales to cover my rent plus my cost of supplies. AND I'm nervous I won't sell anything at all! How mortifying would that be? Everyone assures me I'm freaking out for nothing, so hopefully they're all right! I'll be scrounging around my parents farm this weekend for goodies to sell if I can pry them from my mom's hands (think old windows and doors).
For those of you around here, I'm going to post pictures right before the sale. I want to give you a great reason to come see me (and the rest of the vendors who also have some really great stuff)!!!
Okay – enough about that (don't worry, you'll get an earful as time goes on and I figure out what I'm doing)…You can enter a giveaway I'm helping sponsor for one of my favorite bloggy friends Kenzie in the rafflecopter below.
Who wants a $60 Old Navy gift card?
I do…that's who…but I'm not eligible. So good luck to all of you and have a great weekend! :)
a Rafflecopter giveaway

Comments
comments