This article is sponsored by Kleenex + Walmart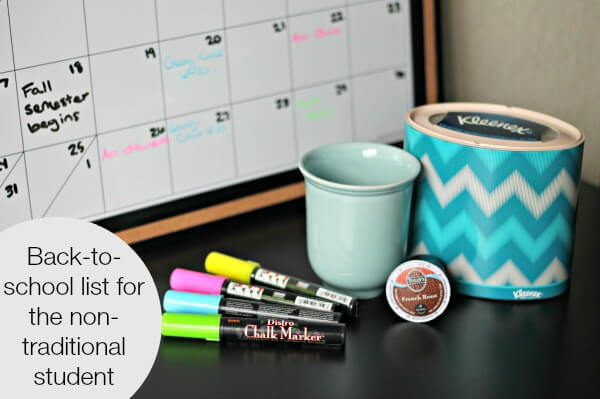 We might not be the typical school or even college aged kids, but as of this past Monday, my husband and I are back to school. Technically he's back to school, but hey, when you're married you don't do anything alone, so I'm back in as well. Will was on active duty in the Army after high school and decided use his GI Bill to go back to school to get his degree last year.
Because we're a little more established than your average college student, our back-to-school list is a little different than you might imagine, but it's also a lot cheaper than furnishing a dorm room. Here's our small list of things we can't live without while we count down the days until Christmas break.
1. CALENDAR
This guy was a lifesaver last year. Last year Will started out the year by missing a TEST for one of his online classes. I wish I was joking. Luckily he still passed the course, but I think it might be because we started writing down due dates of assignments on our master calendar. It's actually not far from our TV, so it's super easy to check before relaxing for the night.
2. CHALK/DRY ERASE MARKERS
I love that these come in multiple colors because Will uses them to color code his classes. Sometimes that calendar gets pretty crazy. It's much easier to figure out what's going on when accounting assignments are in blue and his humanities class is in green.
3. TISSUES
These things come in handy for a lot more than just wiping your nose during the school year. We use them to wipe off the calendar at the beginning of a new month and when you set them on the desk you'll reach for them more than you realize. Need a makeshift coaster or to clean up a spill quick before it ruins your laptop? Much easier to grab the Kleenex that's right next to you then run, dripping to the kitchen for a paper towel! Right now you can even get the pretty boxes!  The Kleenex Expression Oval Tissue chevron designs are available at Walmart Supercenters for a limited time. 
4. COFFEE/ENERGY DRINKS
Energy drinks get Will through the long nights and coffee gets him through the morning when he has to get up early to go to work at his full-time job. Lucky for me I'm not actually the college student, so I usually bail and go to bed when I get tired. I guess married people don't do anything alone until after 11 pm, because that's past my bedtime!
Can you think of anything we should add to our back-to-school list? Surely pencils and notebooks aren't that important, right? 
Comments
comments