You guys, you have no idea how much I can't wait to head home tomorrow. I mentioned yesterday that I'm in St. Louis for a work trip, and it's turning into a looooonnnnngggg week. It actually has more to do with the fact that it feels like I've spent the majority of this month in a hotel room than anything.
I did check out the arch for the first time a couple nights ago and we even rode up to the top. I can't say that the two hour wait was worth it though. I've heard it's much more enjoyable when it's not so crowded. Either way, it was still pretty neat and I had to take the typical tourist picture for your enjoyment.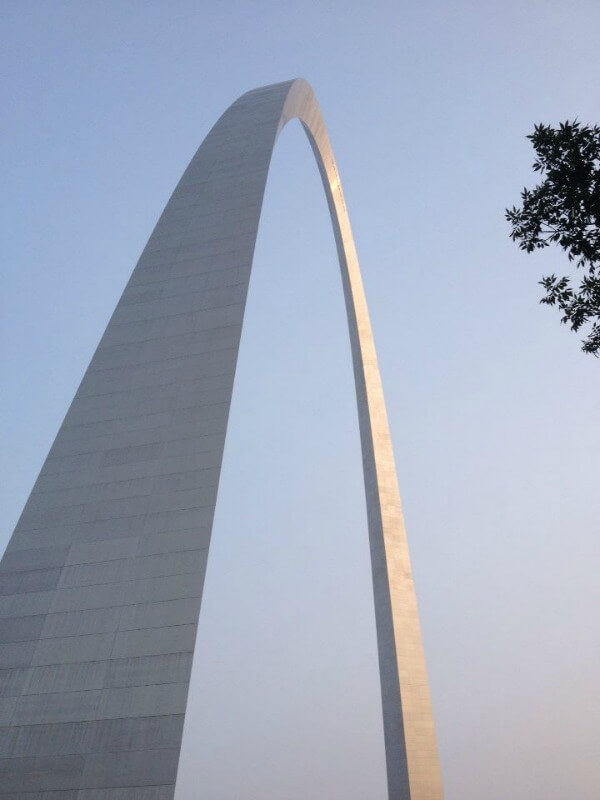 And I'm sure you're dying to see the frozen yogurt I had for dinner last night. Don't worry, I won't make you wait.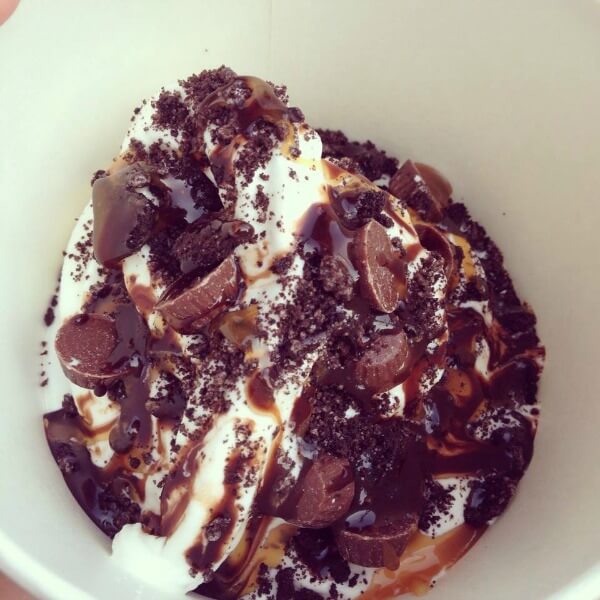 But really, I think being away from home a lot lately has been good for me. I'm actually tired of being lazy finally. I've been pretty guilty of laying around doing nothing after work most nights. I've felt like I'm still in the winter funk, you know the one where it's  so cold out that you just don't want to move again, ever? Except it's not cold outside.
So thanks to some extended hotel reflection time, I've set out few goals for myself when I get home. A "lifestyle change" if you will. And what better way to hold myself accountable than to share them here?
1. Work out 4-5 days a week. I'm pretty little, but I seriously haven't worked out at all since we got married on June 6. This is probably the longest I've gone without working out in years. Usually when I get burnt out I still do something once or twice a week, but not this time. And I'm pretty sure you can poke your finger through one side of thigh and see it on the other side. Muscle is lacking.
2. Cook at home. We also have cooked less than 10 meals at home since we've been married. It's hurting our health and our pocketbooks. And I bet if I eat healthier foods, I might be in a better mood to work towards that first goal…
3. Hit the pool. Not all goals have to be torturous. It is summertime after all, and our apartment complex has a super nice pool. I've only been out there 2-3 times this summer, and I want to get a tan before fall starts showing its face.
4. Finish at least one project every weekend. I get into this pattern where I don't work on any projects for 3 weeks and then the week before the Red Apron sale, I'm spending every spare second during the week to attempt to paint 5 pieces of furniture to sell. Let's just say I haven't been too successful lately and only end up completing about 1/4 of what I convince myself I can do in that short amount of time. Sanding seriously has the potential to eat up all your time. Plus, I really need to be posting at least one furniture reveal a week on the blog, or else it just gets boring around here!
I read enough blogs to know that doing everything isn't possible, but look, I'm not even attempting to keep my apartment clean. I'm kind of scared that these things are so hard to balance now, and I'm only taking care of myself. If I don't get things under control now, I'm not sure I'll survive with a family someday. P.S. I blame it on the fact that we have a really comfortable couch.
So how do you do it all? What's your motivation for accomplishing your to-do list after work?
Comments
comments