I should start out by clarifying that this is not a sponsored post. I just thought this experience was super interesting. Read on and you'll see what I mean :)
Lately I've been on this newfound health journey. And by "on a journey" I mean that I've researched and read a lot and done nothing to implement any of my newfound knowledge. I had (an entire) pizza for lunch today and Mexican for dinner and didn't get around to exercising.
Anyways, I've been interested in these oils that are becoming more and more popular. My wedding photographer recently started selling Young Living Essential Oils, so I've been talking to her about them a little. This past weekend I got the opportunity to get a zyto scan which is basically where a machine scans your hand to let you know which oils your body needs the most. There's something else important about wave lengths and what not to explain how it works, but I can't remember all that.
I was prepared to see the consequences of my consistently bad eating, or some other health related deficiency. Instead, I was surprised to see my results: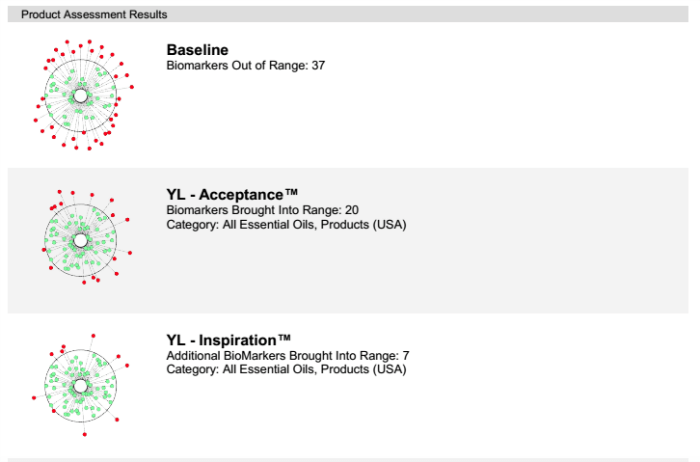 Acceptance and Inspiration would help with 27 of the 37 out of range markers detected in my body. If you look up these oil blends on the Young Living website their descriptions are even more interesting.
Acceptance© stimulates the mind with oils specially blended to promote feelings of accepting ourselves and others, regardless of perceived barriers. The Acceptance Essential Oilblend also helps overcome procrastination and denial.
Inspiration© includes oils traditionally used by the native peoples of Arabia, India, and North America for enhancing spirituality, prayer, meditation, and inner awareness. It creates an aromatic sanctuary for those seeking quiet meditation and spirituality.
What was more telling than these somewhat vague descriptions were the descriptions of the ingredients used in each blend, which my consultant and I reviewed as soon as the results came back (which took about 5 minutes). Most of them help the mind with concentration, positive thoughts, creativeness, focusing, gaining confidence and other similar qualities.
So many of these things apply directly to my recent decision to go out on my own and start my own business. They all help stimulate the brain. Isn't that cool? I thought I'd find a healthy cure to headaches, not to the everyday mental blocks I encounter.
The "palm reading" as I started calling it only took about 10 minutes but I ended up talking with the two ladies hosting the event for about 2 hours. We talked about chasing dreams and the power of positive thinking and being confident in your skills and providing value to people and even without the oils I felt like I left so much more enriched than when I arrived. I love when little things turn into big things like that! :)
Needless to say, they sold me on the oils and a diffuser that plugs into the usb port of your computer.
Have you ever used any of the essential oils? Do you think they really work? 
Comments
comments