Yesterday we celebrated one of my best friends' upcoming wedding with a bridal shower, and it. was. adorable. Her sister put it together with a rustic fall theme and really made things look nice! I'm in the wedding party, so another friend/bridesmaid and I showed up a little early to help set up and I just knew I had to blog about some of the decorations and ideas. I hear you can find most of these out there on Pinterest already (but come on, what ISN'T on Pinterest already?) but I'm going to go ahead and round them all up together today.
1. CREATIVE CENTERPIECES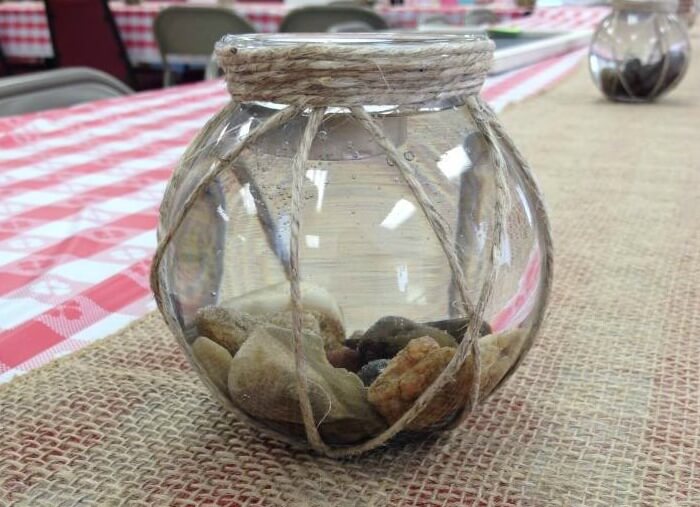 I hadn't seen these centerpieces before,and they were super easy and inexpensive! The bride's sister just filled the bubble ball vases with rocks from a local river, added water and floating votive candles, then wrapped twine around the vase in a fun pattern and WA-LAH! Super cute, easy and inexpensive centerpiece.
There were also wine glass centerpieces wrapped in burlap and filled with hand picked wild flowers picked from the side of the road. I thought that was another great money saving idea rather than buying/ordering flowers for a shower that only lasts 2-3 hours.
2. ADVICE FOR THE BRIDE BOOK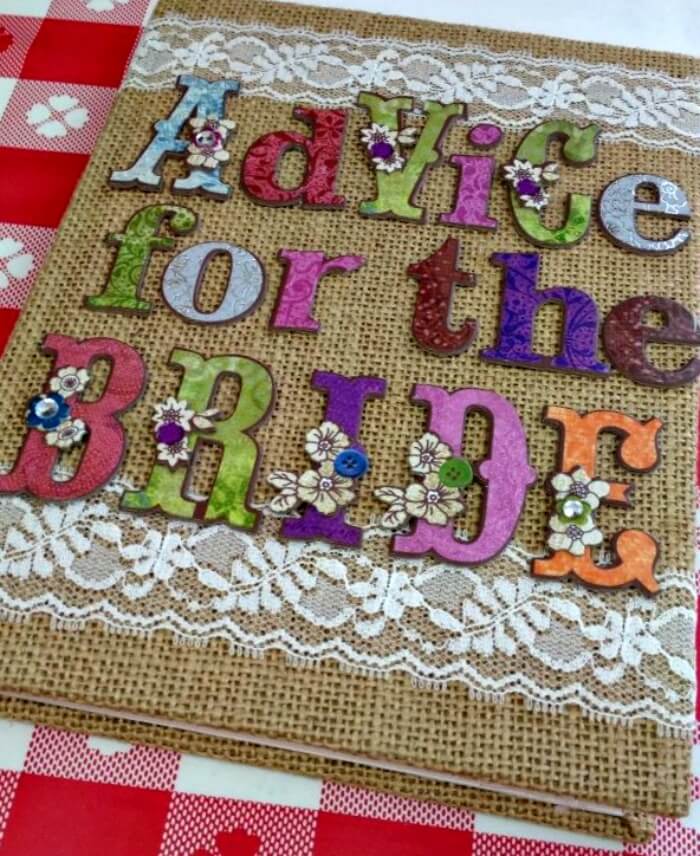 I thought this little book was so pretty decorated with burlap, lace and fun letters. The inside pages were blank and guests left love-ly words of wisdom for the soon-to-be newlyweds. It was a fun little project to keep guests busy while they ate and visited at the beginning of the shower, not to mention how fun it would be to read as the bride and groom.
3. DATE NIGHT JAR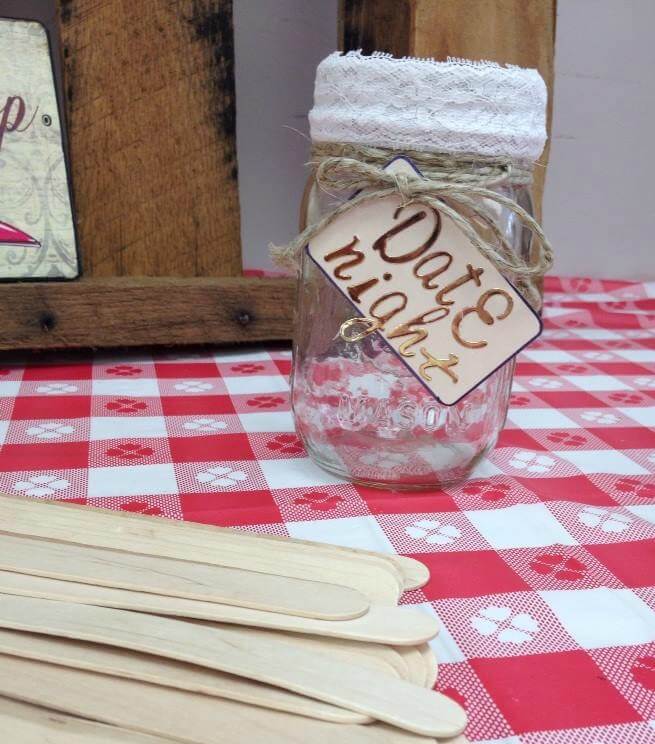 This one was one of my favorites, probably because I've been meaning to make a date night jar for Will and I for a while now, but haven't got around to it. Everyone wrote a date idea on a popsicle stick and stuck it in the jar for days/nights when the newlyweds need a fresh date idea.
4. RECIPE BASKET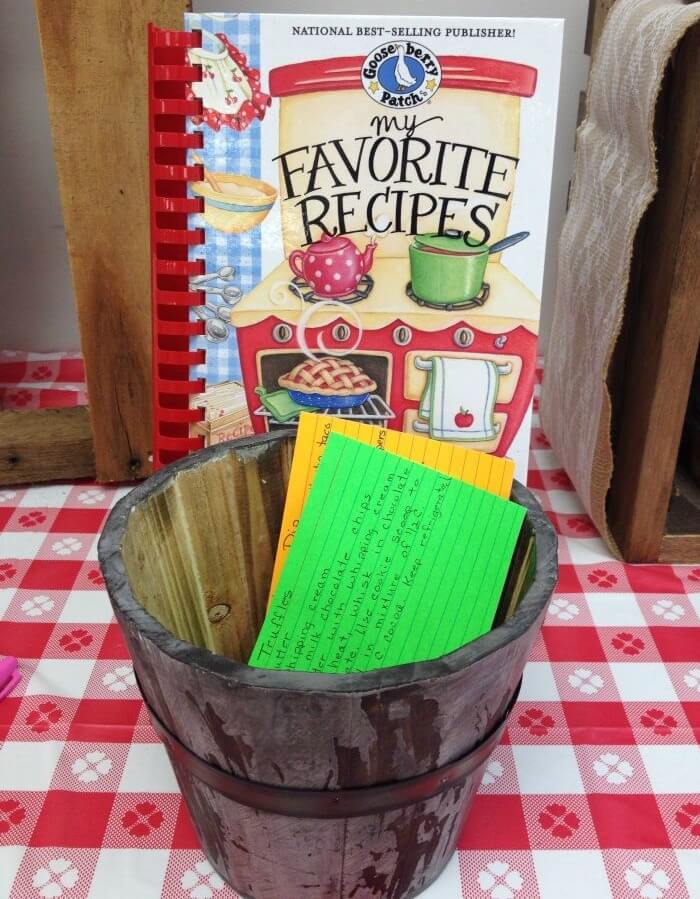 Guests fill out note cards with their favorite recipes. I think the family members enjoyed this more than anyone, as they were able to pass down family recipes that they already knew the bride loved. Unfortunately, I wasn't able to participate because I'm pretty sure they don't need a recipe card to figure out how to cook a frozen pizza, which is about as far as I've gotten in the cooking world! Either way, I loved the idea!
5. MASON JARS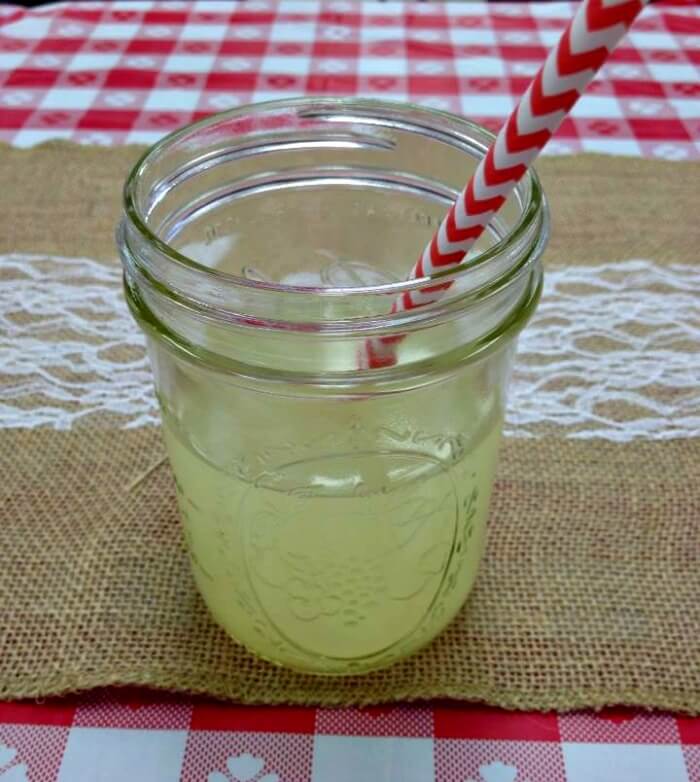 Okay, so this one isn't anything new, but mason jars never lose their appeal and I couldn't resist taking a picture. I'm still trying to figure out how that paper straw didn't get soggy in my lemonade…
6. CUSTOM CUPCAKE WRAPS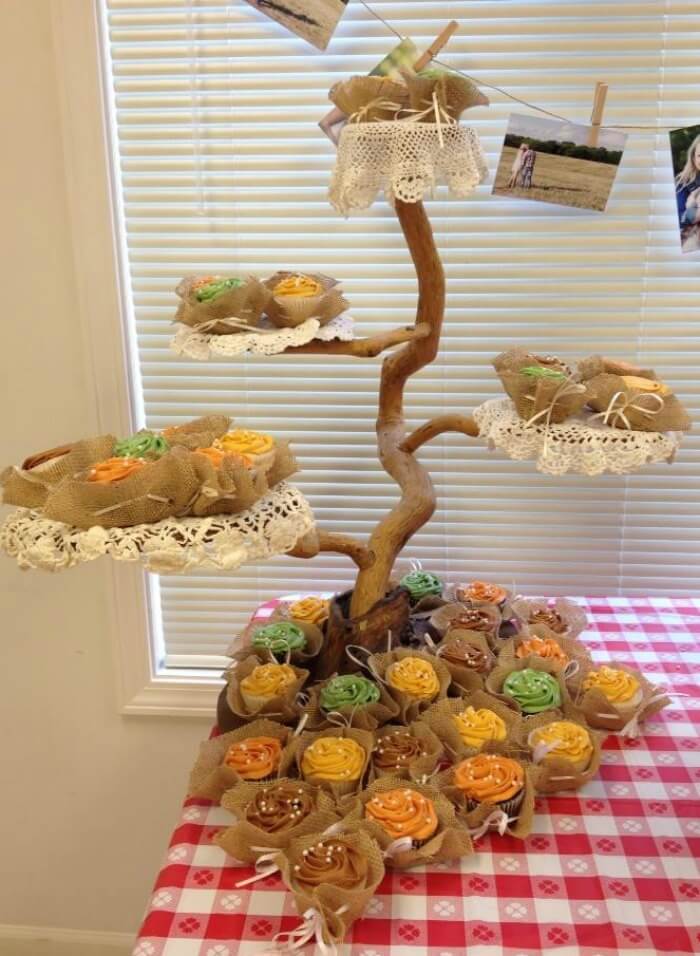 Another bridesmaid and I took on the responsibility of the cupcakes and cupcake wraps and made these out of burlap and ribbon. We just cut the burlap into circles (we bought cupcakes and used the liners as a template for the size) and laced ribbon through them and then tied them around the cupcakes. I'll warn you though, it's more time consuming than it appears and somehow I ended up with a blister on my finger from threading the ribbon, but I think they were well worth the trouble. I'm even making more for the wedding!
7. FAVORS FOR GUESTS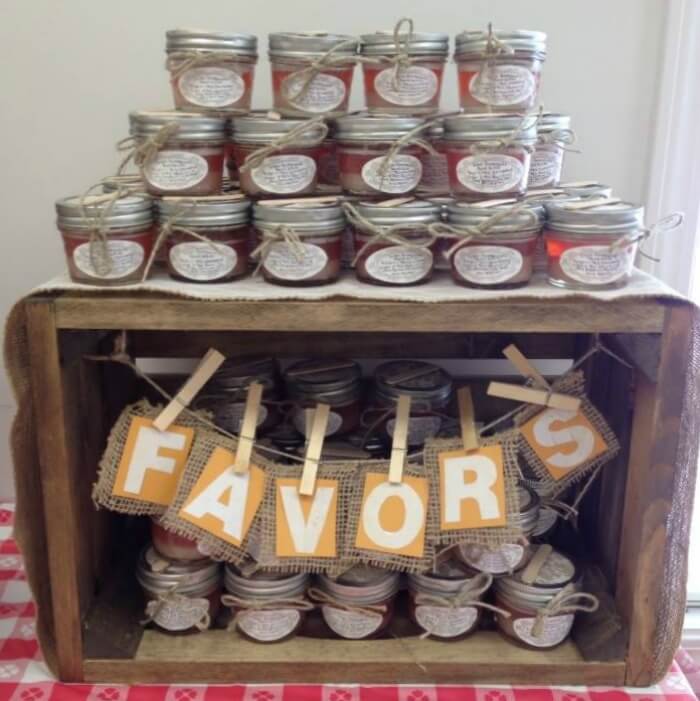 Apparently I'm the only person who thinks it's weird to have to give out gifts on your day of receiving them, but if you're going to make favors, go big or go home. The bride's sister also made this homemade hand scrub for guests to take on their way out. The display was super pretty and the hand scrub smelled delicious. I ended up with three of them. As a guest I really enjoyed these favors and will actually get some use out of them. I guess favors aren't so bad after all!
Have you ever seen any of these ideas at a bridal shower? Do you have any other favorites? 
Comments
comments