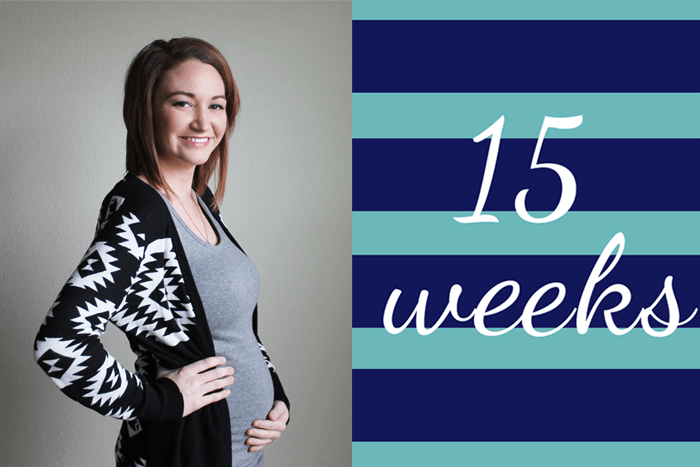 I'm failing miserably at weekly bump pictures. I just can't find the right spot and I don't have enough flattering clothes to make it exciting for me. As you can probably tell, I'm already out growing most of my pre pregnancy clothes and I'm resisting investing in an entirely new wardrobe just quite yet because the majority of my big belly months will be in the hot part of the summer. This picture was actually taken almost 2 weeks ago!
While I'm thankful to be pregnant, I'll be honest and admit that I don't really love it. I haven't even had morning sickness or extreme fatigue, but the looming changes to my body and the difficulty of getting around as comfortably as usual are just not my thing. And the waiting…it's killing me! I'm not even half way through and I'm already ready to be in the cuddling stages of motherhood instead of the child bearing stage!
All in all, I've had a really easy time of everything. Most of the time, I don't even really notice that I'm pregnant once I decide on what clothes to look ridiculous in for the day. I'm trying to make an effort to get in a little more exercise and establish some healthier eating habits and Will will usually catch me checking out my bump in the mirror a couple times a day. Am I supposed to be used to it by now? Because it still just fascinates me!
In four weeks we'll have our big sonogram, but we're still planning on letting the gender be a surprise. I'm really looking forward to seeing the baby again though! I also can't wait to move into our new home at the end of April so that I have a baby room to start decorating. I have yet to buy anything for the baby except for a rug because I'm trying to hold off until we move. We don't have enough room in our one-bedroom apartment to store any extra stuff right now, so that's helping hold me back. I would be lying if I said I didn't walk through the baby section every time I go to Target though!
I'm still not sure if I've felt the baby move yet. There were a couple times I thought maybe I felt something, but I haven't felt it in a while now and maybe it was just pulsing in my stretching stomach muscles or something. Any day now I should be able to start feeling little kicks and tumbles! I'm definitely looking forward to when I know for sure what that feels like!
So mamas, how far along were you when you felt the first kick of your first little one?