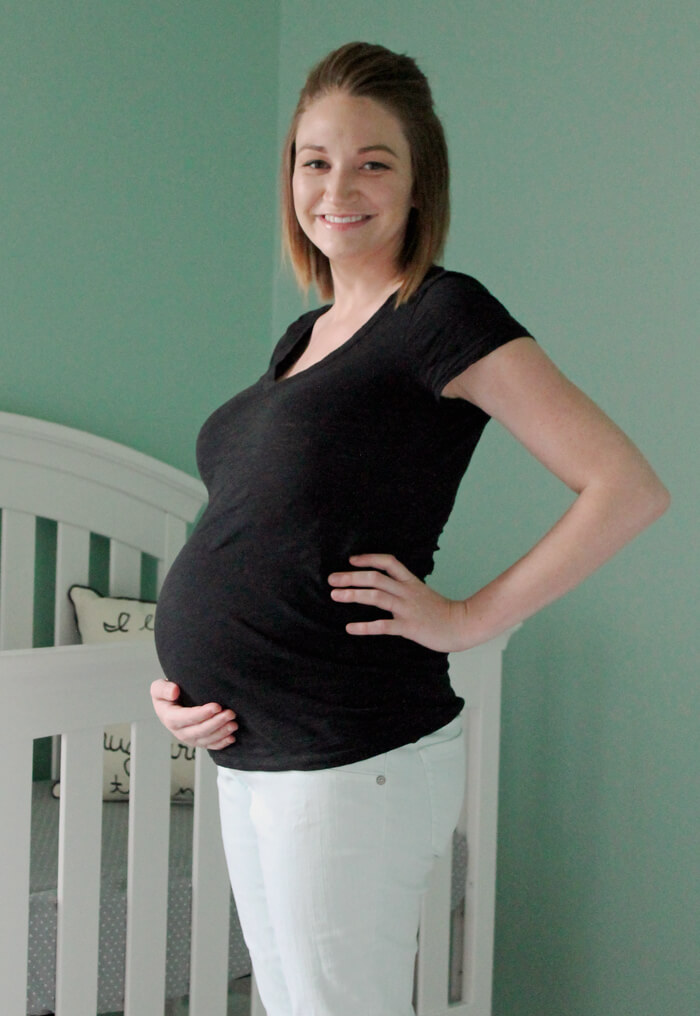 It is unreal to me that I am already 3/4 of the way through this pregnancy. In some ways, the reality of the the situation hasn't yet hit me, but in others (like the back pain) let me know that this is really happening.
While I've been complaining quite a bit lately and I am ready to not be pregnant anymore, I can't deny that I've had an extremely easy and uneventful pregnancy, even now. I have some back pain that I think is a sore rib, because it is just in one very specific spot in my upper back, that makes sitting pretty uncomfortable so I prefer to be up and doing something, or laying all the way down. My other biggest ailment is that I can't wear my ring much anymore because my finger is breaking out in a rash exactly where it sits. I'm guessing this is a hormone related pregnancy symptom? I had no troubles with it for the past year and a half…And then there's the swimsuit situation and I've just decided I'll be sitting this summer out. The small, medium, large options aren't working for my small frame and large bust size, but it is what it is. I have plenty to do in the final weeks anyways.
The best part of this stage of pregnancy is feeling the baby move. It's definitely more constant and has changed from sharp kicks to more gentle rolls and swishes as it moves around. Sometimes I'll feel it move to one side of my belly or the other and I can catch a random limb poking out and softly touch it before the baby pulls it back in. That's my favorite! We're also making some major progress on the baby room. It's looking a little like a construction zone at the moment as I finish up painting trim, but here in a week or so I think it will be really close to being finished! My sister and I went shopping for coming home outfits last week. We were looking for one girl and one boy outfit and came home with two girls outfits, they're just so adorable! The retail industry needs to step up it's newborn baby boy clothing game!
I'm starting to get a little anxious about actually being prepared to take care of the baby once it's born. The amount of things you're supposed to register for is extremely overwhelming and I can't imagine everything is completely  Will has had very little interaction with young babies, and I haven't had much since my brother was a baby. He's 16 now, so I think a refresher wouldn't hurt. I wasn't planning on taking any classes, but now I've decided we're going to take a birthing class and a baby basics class. I know they're probably be corny, but it'll give me a little peace of mind.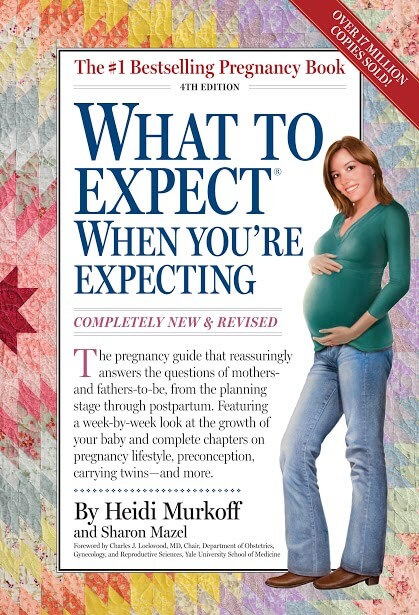 I'm also getting more into reading my What to Expect When You're Expecting books. My cousin let me borrow her copy, and then I was sent my own copy along with What to Expect the First Year and What to Expect the Second Year last week. There's a reason why this series is one of the most popular series for expecting and new moms recommended by moms and doctors and has been the long-running book on the New York Times Best Seller list, and that's because they cover about every question you could have. I especially like how it breaks down what to expect month by month at each doctor appointment and throughout pregnancy. I'm able to read as I go and read through the things that apply to me and skip over those that don't.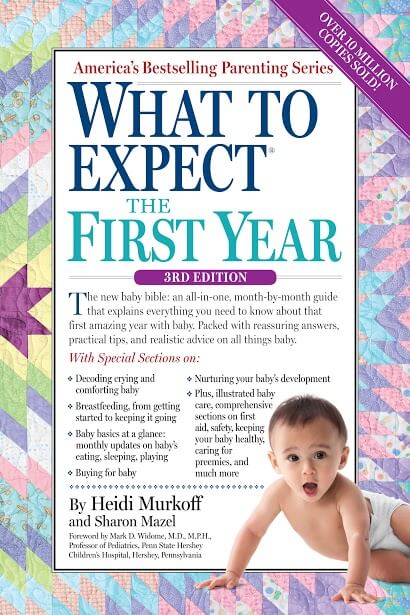 The What to Expect the First Year and What to Expect the Second Year books are set up the same way, covering general information in the beginning and then providing a month by month guide to common questions and experiences. Between these books, the classes and advice from my momma who has successfully raised 3 kids, I think Will and I will be just fine! People do this every day, right?
If I stick with my bump picture schedule of every 5 weeks, we'll only have 2 more pictures if the baby doesn't decide to come early! We have maternity pictures scheduled for next weekend and then my mom and sister are planning to throw the baby shower at the end of July. I have a feeling the coming weeks will be the fastest and slowest of my life! We really are excited to meet our little baby!
I was selected for this opportunity as a member of Clever Girls and the content and opinions expressed here are all my own.