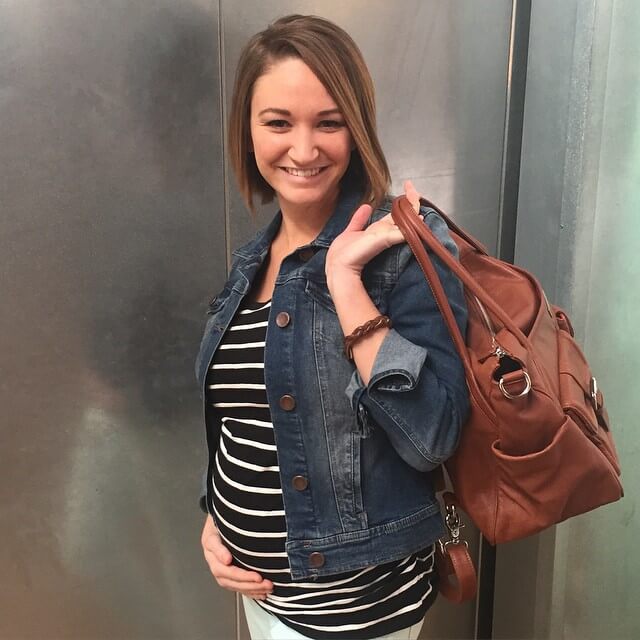 Last Thursday marked the halfway point of our pregnancy, and I can't believe how fast it seems to be going! I have a feeling time will be slowing down soon, but luckily we have some other distractions coming up that might make time speed up again! We'll be moving into our new house in a little less than 4 weeks, and I bet the projects that come with that will make August feel like it's right around the corner.
We have our big sonogram this Thursday, and we're still holding strong on not finding out the gender! We're super excited to see the baby since we haven't seen it since it looked like a bean at 11 weeks. I keep trying to imagine how much it's grown since then and it's still crazy to think that there is a living baby inside me.
I'm finally pretty positive I'm feeling little kicks throughout the day when I'm sitting still. Every night I make Will put his hand on my belly, but they aren't strong enough yet for him to feel. I keep saying, "Did you feel that? How about that?" and he shakes his head no. Hopefully within the next couple weeks our little baby will be stronger and it'll happen!
I'm feeling really good and wouldn't even feel pregnant if my belly didn't keep getting bigger and bigger. It is a little uncomfortable to bend over and I have to exert a little more energy to get off the couch and out of bed, but nothing too terrible yet.
My mom and I went to Buy Buy Baby last weekend to check out some baby gear and get an idea of everything we'll need, and it was a little overwhelming. So much stuff! I've started a registry online that I add to here and there, but I'm sure I'll go back through and reevaluate later. There are just so many different options for strollers and carseats and playpens that I have no idea what's really necessary. I feel much more comfortable picking out pretty sheet sets! :)
I'm going to try to take weekly pictures from here on out…I need more photos to fill my up baby book and I feel like we're at the point where I'll be growing every week so they'll be more exiting!