I did so well with blogging last week and then fell off the bandwagon again. I thought I'd show up today for a bump date, since (spoiler alert) I actually have one now. However, I do think this picture is a bit misleading. It doesn't look near this big unless I guess you're looking at me at exactly this angle.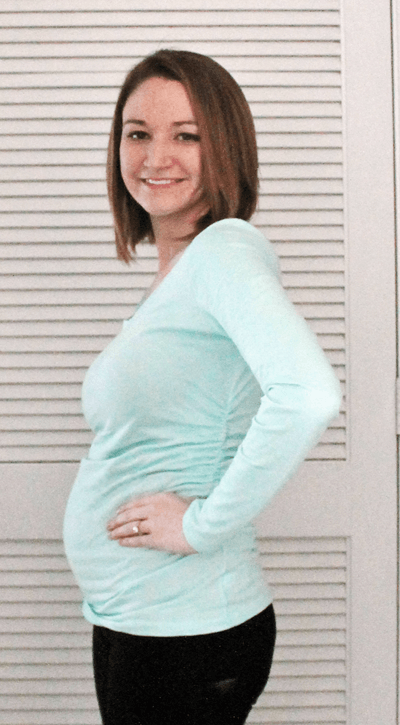 size of the baby: About 3 inches
total weight gain: Still not sure about the exact amount but I don't think it's too significant.
maternity clothes: I caved and bought some stuff this week. I had to go up a bra size so I decided to grab a couple shirts, then had to go back the next day for some maternity yoga pants. I went to the gym on Tuesday and my stomach was literally hanging over my yoga pants. And not in a cute bump way but in a "my-pants-are-cutting-off-my-circulation" way. So excited to try out the stretchier ones!
movement: Don't think so. But only 3 more weeks until it's about time…maybe.
sleep: WE BOUGHT A KING SIZE BED THIS WEEK. My life is complete. We're picking it up today and so tonight will be our first time sleeping on it and I am expecting life changing results.
nursery: So far I've only bought a rug for the nursery, since we don't actually have a house yet or a room for it. It might seem like a random purchase but I found it at TJ Maxx a few weeks ago for a great price so I had to grab it. It's just a black and white striped one so if it doesn't work out I can use it somewhere else when we finally buy a house.
what i miss: My flat stomach. But I'm also really excited for my bump.
craving: None.
symptoms: The only symptom I have this week is my growing body. And I guess the first cold I've had in about 2 years, but I've been told it's normal for your immune system to struggle a bit during pregnancy. I'm just ready to breathe again.
will is: "I'm excited. It's going to be good," says the expectant father.
looking forward to: The 2nd trimester! I cannot believe that this is last week in my 1st trimester and I'm pretty much 1/3 of the way through everything. It's crazy how fast and slow time is moving at the same time.
best moments: I got the baby book I ordered a few weeks ago in the mail this week. I got this one from Etsy and I love it! The inside has a lot more features than I was expecting to keep track of the pregnancy and every month of the baby's first year!