Yesterday I was all ready to crank out another project I'd been meaning to redo for a while.
I stopped on my way home from work and purchased some CeCe Caldwell's paint and was planning to start and finish the project that night. Unfortunately the project had a different idea in mind.
I previously painted a desk I got from my Grandma as one of my first DIY projects. (I probably have an old blog post I could link to, but I don't want to because that was when I FIRST started blogging and it was BAD) That was before I'd ever heard of chalk paint, so I painted it with regular old latex paint, and I didn't seal it in – mainly because I didn't know I had to.
I realized my mistake early on when we moved it from my parents' house to my apartment and the paint peeled right off in some places. Ever since then, I've been meaning to redo it.
BUT I need to sand it down first. While you don't HAVE to sand before using chalk paint, I wanted to this time because the latex paint was chippy in a way that I don't want to show through new paint.
Anyways, I started sanding last night when I got home and after what seemed like forever (which was probably only 15 minutes top), this is how far I got: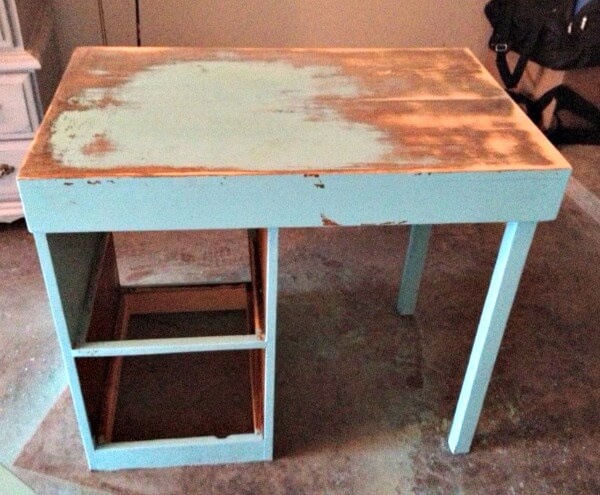 I really thought I would sand for like five minutes and it would all come off easy since it was already peeling off, but not the case.
I also realize how the top of this looks like maybe I could have lightly distressed the paint that was already on there and it would have looked good, but that is also not the case. It looks horrible in person.
Hopefully tonight I won't lose my motivation so quickly and I'll get it all sanded and painted. I'm painting it a similar color. I bought pretty much the exact same color, but I'm going to add some gray to it and see if I like the darker color that should create a little more. Feel free to tell me if turquoise and gray mixed together might be a really bad idea!
Wish me luck!!
Comments
comments