Happy Monday, everyone! Is it Friday yet?
No? Ok – well then.
So this weekend was full of family activities and supporting veterans!
Friday I went to my brother's baseball game. They lost, but he was still pretty cute in his uniform anyways. (At 14, I'm sure he's sick of me saying stuff like this  in person, on my blog, in front of his friends, etc. but I'll never stop!)
My sister, brother and I took a post-game picture, photo bombed by our really mature dad.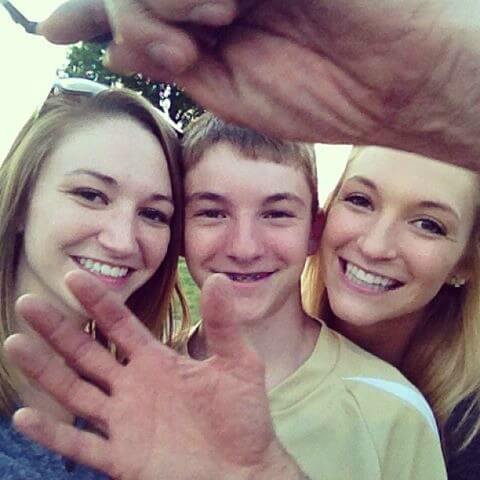 But that's kind of exactly how it always is with our family. It's where I learned my awesome pestering skills that I use to annoy the boyfriend! What, you don't want to be tickled every time I see you? Too bad!
Then Saturday I volunteered at the Cameron Missouri Veterans Home Golf Tournament. I worked there as a receptionist in high school and I volunteered for last year's tournament, so I decided to help out again. My cousins were also volunteering (my Aunt works there too and recruited us all) so we were in charge of taking the team pictures.
I also supported veterans that night by washing the boyfriend's national guard uniform for him. Lucky for him, he had just spent a week training in a field, or else he'd a been washing his own uniform! :)
Turns out, some of these old men are serious about their golf games and do not like to be bothered by team pictures after they sneakily run out to the course without taking them.
I'm also known for running around on the beer cart and soliciting more tips out of the guys when they get a fresh drink. You'll hear me saying repeatedly, "We accept tips for veterans!" A lot of the times people just ignore me, maybe because they think I'm lying and I'll take them all for myself, I don't know. But I ended up collecting about $20 in the hour I was out on the course, so I figured that wasn't too shabby. If I'd done it all day I'd have quite the stash built up!
The following picture is now a tradition with some of my dad's friends who play in the tournament. I'm pretty sure this started last year when one of them sent my dad a picture of us and told him I was out there flashing people for tips. (Don't worry, I wasn't. You'd just have to know my dad's friends.)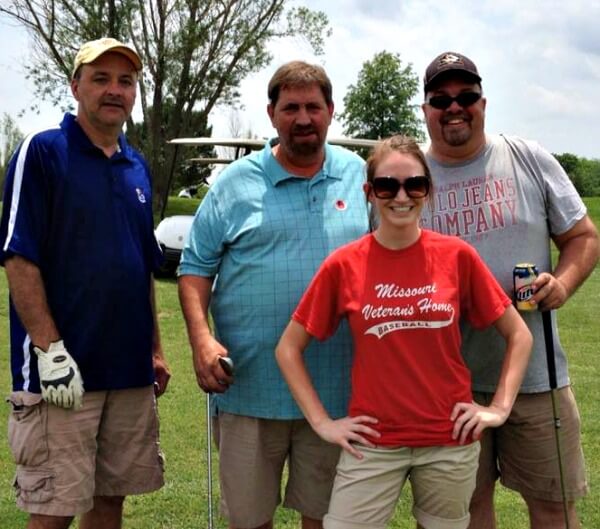 Don't they look like fun guys? Haha! Dad's friends always get me in trouble.
Like this one time, when….
The night before my college graduation, one of Dad's friends (not in this picture) roasted a hog for us for free, so Dad sent me over to his house with some extra meat for them to keep as a thank you. Can you tell my parents live on a farm yet? My parents were also cleaning up the barn and the house for my graduation party that was taking place the next day, so I was in no hurry to get back.
Well this guy was out in his shed smoking the hog and having a couple drinks, next thing I know he's pouring me my fourth margarita and texting my dad about how I'm getting drunk with him. And then I tried some shots and did all the normal things you do while bonding with your Dad's friends by yourself.
I'm not the only one who does that, right? 
Long story short, it was all fun and games until I thought I was going to throw up during my graduation ceremony the next day after telling everyone, "I really didn't drink that much!" And I mean people had out their cameras ready to record it. You just have to breathe through it!
Ok that's not where I intended this post to go. I was going to talk about Father's Day how excited I am for my first vendor meeting tonight, but I guess I'll just do a recap tomorrow! :)
Comments
comments