Do you ever say ROTFL when you're texting or chatting?
I never do. First off, because I had to retype that 5 times to get the letters in the right order. And second off, because it's highly unlikely that I am ever Rolling On The Floor Laughing. Except for this Saturday at my cousin's wedding, in which I was a bridesmaid.
That story will be at the end of the post.
So, about the wedding…My cousin, Kelsey, got married to her then fiancé/now hubby Eric. Kelsey is the cousin I grew up with and went to school with. By third grade, the teachers caught on to the fact that we were not to be put in the same class. When we were, nothing was accomplished because of our uncontrollable laughing/fighting.
Anyways, we go way back if ya know what I mean.
So we started out the day by getting our hair and make up done, followed by tons of pictures, then the ceremony, and finally the best part, the reception!
This is my cousin Lyndsey (the bride's older sister) and I after our hair and makeup was finished. I'm willing to bet there were some Instagram edits before I stole this beauty off Facebook, so it's  bit blurry, but nonetheless, I love it!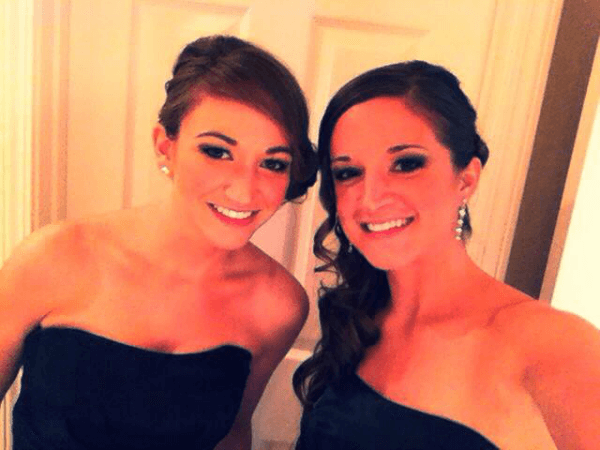 My sister Ashley (who contributes over on the My Closet section of the blog) did our makeup! Isn't she da best?
I took absolutely no pictures. All the ones I'm posting were sneakily stolen from Facebook. A certain blogger over here needs a decent camera. Also, she needs to remember to seize photo ops.
I'm still mad that I never got a picture with the boyfriend. We were all dressed up, and I kept forgetting to have someone snap one! Typical.
I did manage to get my hands on a few pictures with friends.
We had a mini high school reunion at the reception. I've gone to school with all these girls since kindergarten and the boy joined in our eighth grade year I believe.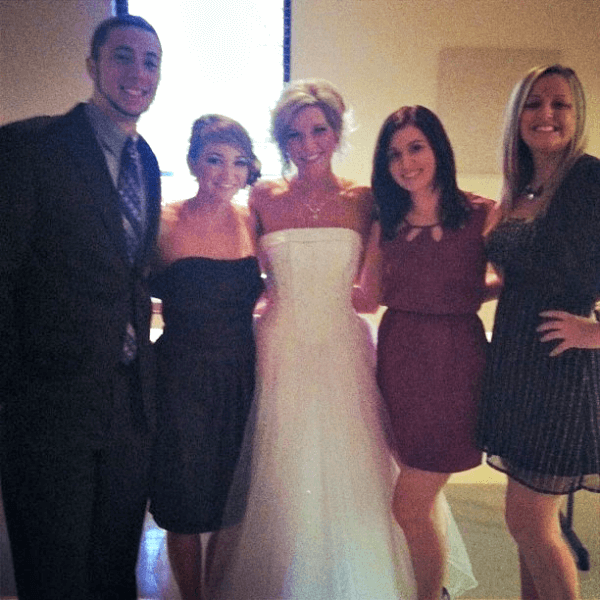 Isn't Kelsey's dress perfect? At one point in the night, the boyfriend leaned over to her and said, "You look beautiful, Kelsey. That is definitely the dress for you!" After she thanked him but gave him a strange look for the way he worded his compliment, he explained, "Kala makes me watch a lot of Say Yes to the Dress and that's definitely your dress."
I'm training him right, ladies!
Here's just a picture of the girls. It's me, my cousin Kelsey, and best friends Kaylee and Danielle.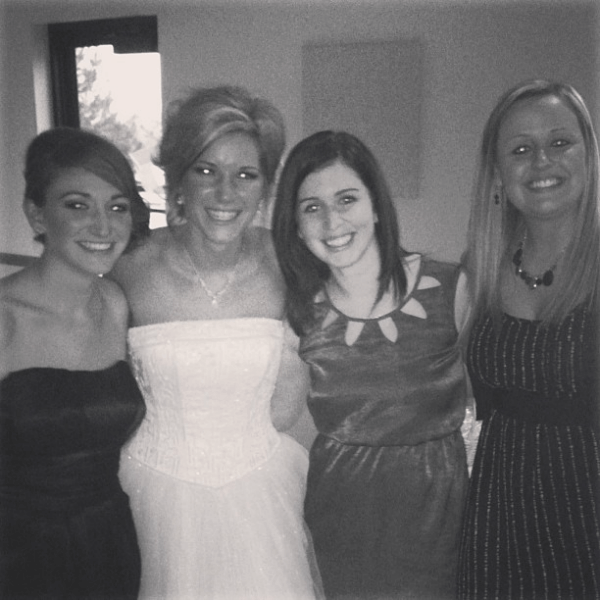 These three girls are definitely my best friends. I've been friends with them since age five, and like most little girls, we've definitely had our share of drama, but these are the 3 I make sure to meet with as often as possible! It doesn't matter how long it's been since we've seen each other, nothing's ever weird between us and we always have a ton of fun!
Here's us in high school. I couldn't find one of all 4 of us together in any of my Facebook albums, so two separate pictures: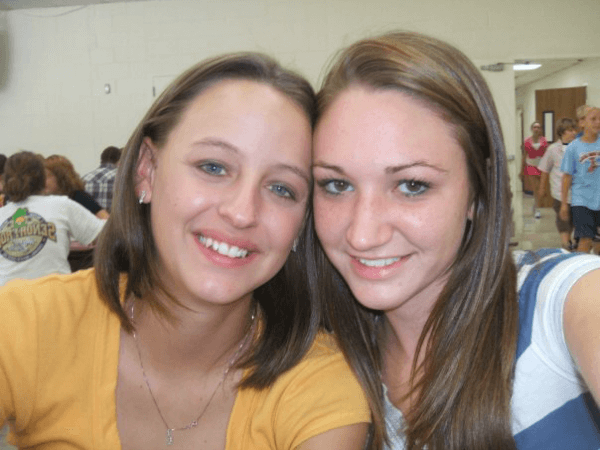 Okay, so back to the wedding, and the rolling on the floor laughing story….
This one time…out on the dance floor, with everyone circled around me after I demanded their attention, I was prepared to show off my signature dance move.
Surely you've seen the one where you grab your ankle and put your other hand behind your head and hop around, meeting your elbow to your knee every other jump? I can only hope that explains this move accurately.
Anyways, I was doing that one. And I'm known for my awesome dance moves as it is, like the sprinkler, and stirring the pot in slow mo then really quickly….you get the point.
So – everyone circled around, and I start to lose my balance and had to come out of my pose. Determined to redeem myself, I grab my ankle to do it again and I was planning on rocking this move…but then….
My foot slipped on a wet spot and my body slammed against the floor in about .5 seconds.
I was mortified!!!
But that's not even the worse part. I'm pretty sure what I slipped on was my own wine I had been sloshing around with my other dance moves prior to attempting that one. OMG!!!!
I was literally Rolling On The Floor Laughing. Like could not get up, tears streaming down my face.
I'm pretty sure everyone thought I was wasted and injured. Neither of which was entirely accurate.
I looked to the boyfriend and he was dying laughing. Why that boy puts up with me and still wants to be seen in public with me is a mystery.
After composing myself enough to make it over to my parents, they informed me that they were so proud of me. Apparently, as I was stuck on the floor, they looked at each other, said "That's our daughter" and "pounded it". Dear Lord.
(Luckily, there are no pictures to validate that this ever actually happened. Although every time I get a notification saying I've been tagged in a new photo, I'm a tad nervous about it.)
P.S. Don't forget to sign up for my new newsletter in the box below! I promise I'll be sharing more funny stories there! :)
Comments
comments