Finally, it's done!
This has been the longest furniture restoration EVER! Ok, probably not, but it sure felt like it!
Here is the before and after: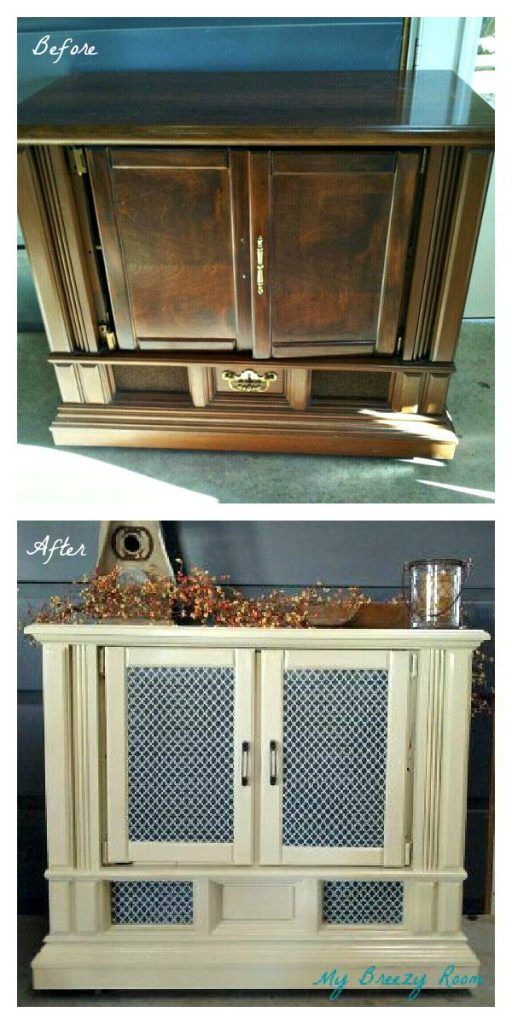 I am really happy with how this turned out! I think it looks much better than the outdated "Before" picture.
The supplies I used for this project were:
– Oil based primer
– Spray Paint
– Shine Protector Finish (any type of sealant/finish/wax will work)
– Scrapbook paper
– Modpodge
– Nail filler
– Paintbrush
– Screwdriver
– Hardware (new handles)
Had I started with all of these supplies and not been crunched for time (or lazy) everytime I went home, I probably could have completed this project within one weekend instead of the 2 months it ended up taking me.
The main challenge with this project was painting the laminate wood. After doing a little research, I decided that using an oil based primer was my best bet, then spray painting on the color, followed by a good finish. All of these items I picked up at Wal-Mart.
Once everything was painted, I used Mod Podge to adhere the scrapbook paper to the doors and to the speaker material at the bottom of the cabinet.
I personally had to redo the cabinet doors a few times to perfect the art of decoupaging without bubbles, but it didn't turn out to be a big deal as the mod podged paper peeled right off.
TIP: If you have trouble with bubbles when you use Mod Podge, make sure you have covered the surface you're adhering to COMPLETELY, and then roll your paper/material on starting at the end, smoothing it out as you go. This may seem like common sense, but you will most certainly have TONS of bubbles if you just lay your paper down all at once and then try to smooth it out. (I know this because I did that first.) I also found it worked better for me if I let the bottom layer dry before putting any top layers on.
At the last minute, I decided to fill the nail holes where the handle for the fake drawer at the bottom had been. Then I repainted over it. I probably should have done that first, before priming, but it ended up turning out ok.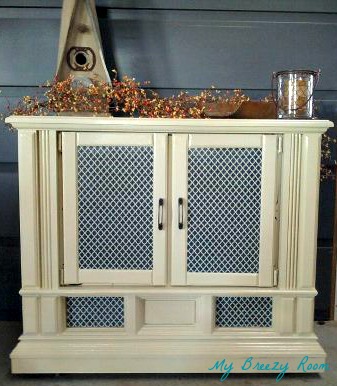 I have decided I'm probably not going to attempt to restore any more furniture for a while. I just can't get it done fast enough working out of my parents' shed on the weekends and honestly, I don't have a need for much more furniture until I move again. And hopefully when I move again it will be into a house with a garage, which will give me more room for this type of stuff!
Plus, it's starting to get cold outside, which will also discourage me from wanting to go work in the shed!
Don't worry, I can still work on plenty of smaller projects for the walls in my apartment that don't involve big pieces of furniture that need a lot of work!
Comments
comments