One of my friends had the great idea to have a Pinterest Party. Apparently her sister has those types of get togethers on a monthly basis, which I think is a fantastic idea. It actually motivates you stop pinning and actually make something you've pinned in the past!
I decided make a decoration for my wall that only required canvas, old magazines, acrylic paint, mod podge, vinyl letters, and a cheap paint brush. I spent about $20 at Michael's for all of the supplies. This project only takes about an hour, depending on how detailed of a magazine clipper you are.
Cut out pieces from an old magazine.
I started off by cutting out random pieces from old magazines and mod podging them to the canvas. I concentrated on cutting out entire items with different colors and patterns, but my sister just ripped out random pieces of the magazines and hers turned out just as good as mine. So really, that part is up to you.
Stick on vinyl letters after Mod Podge dries.
After the mod podge dried, I stuck on the vinyl letters in the lower right corner to spell out my words. I would suggest using small vinyl letters if your canvas isn't very big. I was limited in the words I could spell out because my letters were a little too big and my canvas was a little too small.
Use acrylic paint to paint the entire canvas.
Then I painted over the magazine clippings and vinyl letters (you want to paint lightly over the letters so it doesn't bleed through around the edges).
Once paint dries, peel off stickers.
After waiting about 10-20 minutes for the paint to dry, I peeled off the letters and my project was complete!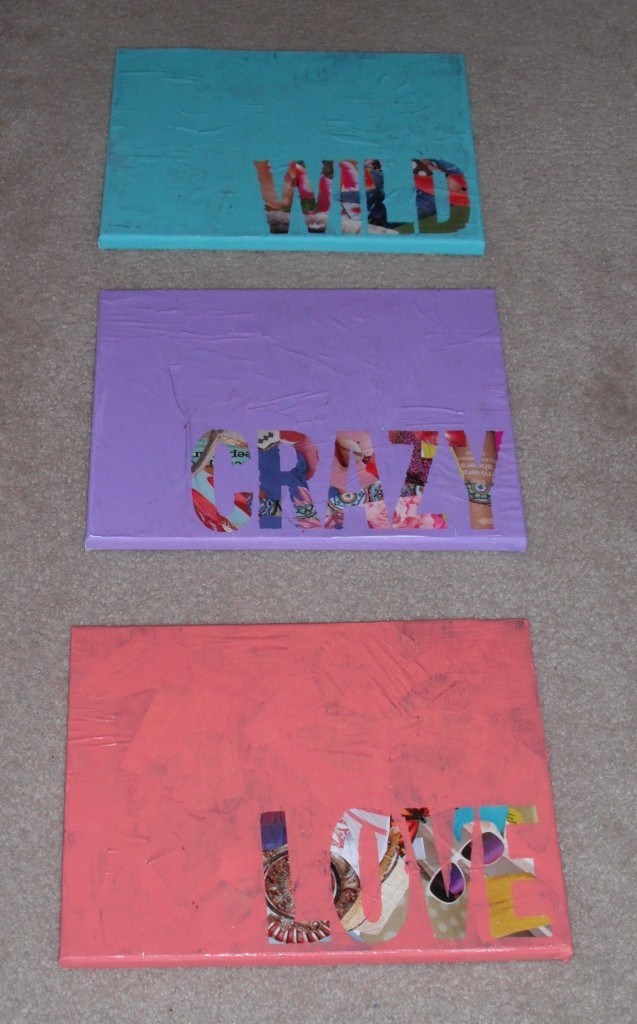 Follow this link to see where I got the idea: http://pinterest.com/pin/102316222754872783/
Comments
comments