Happy Sunday! The weekend is going by way too fast, as usual!
If you know me, you know that running (and athletics in general) is not my forte! Ironically, I've ended up signing up for two 5ks this summer.
It went a little like this:
Friend: "Hey, would you want to do the Warrior Dash/Color Run this summer?"
Me (not thinking): "Sure, how do I sign up?"
What?! I HATE running! And I definitely cannot run over 3 miles at one time.
Anyways, yesterday was the day of the first one, the Warrior Dash. Not only is it a 5k, there are also obstacles and lots of mud and water. (I considered those a break from running, though, which was kind of nice).
So – with the perfect (sense my sarcasm here) forecast of 50 degrees and rainy, we began the race in all white with the theme of Running with the Bulls.
The whole way there I was reassuring myself that I would survive my first 5k. I was dreading being soaking wet with the cold wind blowing more than anything.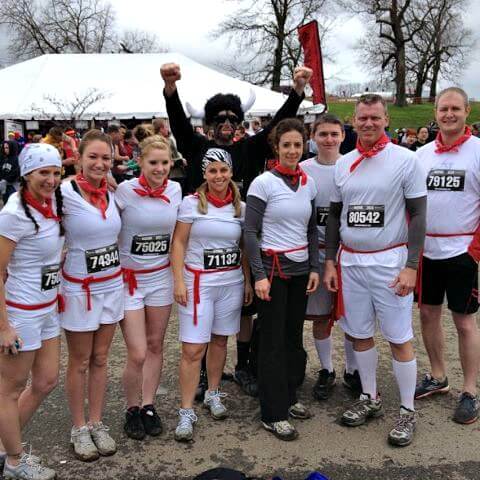 Once we started, it actually wasn't too bad. I ended up running faster than I anticipated and I made it through every single obstacle!
It wasn't without struggle. I mean, they really weren't particularly hard, but a lot of the obstacles involved climbing over really high structures. I'm good climbing up. I'm even good climbing down. It's throwing my second leg over the top when I feel like I have nothing to hold on to that scares the crap out of me!!
So I got stuck for a few minutes at the top of a couple obstacles. Luckily, one of the guys in our group stuck back to talk me through them.
This took me back to when I would climb up onto a roof my dad would be working on when I was little. I'd feel on top of the world….then when it came time to get down, I was too scared to take that first step onto the ladder. The result usually ended with Dad carrying me down the ladder after an extended period of attempted coaxing. Needless to say, I'm not allowed to climb up on the roof anymore.
I did surprise myself by not walking. But I was right about the obstacles giving you a break from running. There's no way I would have run the whole thing if it was just running. There was even one obstacle that got so backed up we had to wait for 20 minutes just to get on. That kind of screwed up our time, so I have no idea how long it took us. That's the only time I was super cold. We were soaking wet and just standing there, waiting as the wind blew.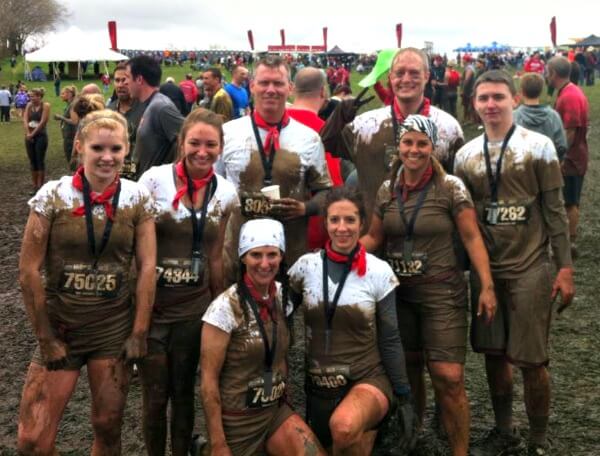 All in all, it was a really good time and I was nervous for nothing! As you can see from our after picture, we got a tad muddy!
And, as you can see here, I survived!
We donated our shoes at the end of the race and headed home. A warm shower never felt so good!
Comments
comments