Welcome to the time of year that my pictures get steadily worse due to less hours of light. By next weekend, the only hours it will be light while I'm home will be on the weekends thanks to this full time job of mine. While I'll try to take pictures on the weekends from here on out, this after photo just couldn't wait. Plus I finished it Sunday night after it was already dark, so I figured you didn't want to wait until next weekend to get see it.
Oh, and we'll get to the tragedy part of this at the end. 
So this is what we started with. The one on the left right. I seriously still do not know my right from my left…and sometimes they both look like Ls and it gets confusing. But it's the one on the right for sure.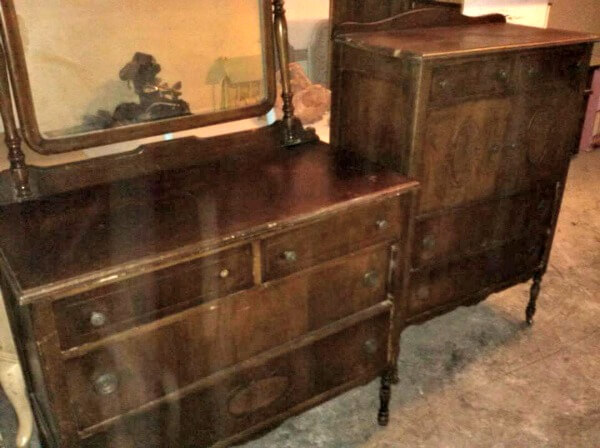 I definitely wanted to paint it, but didn't want to take away from the antique look with a bright color, so I settled on CeCe Caldwell's Alaskan Tundra Green.
After the boyfriend fixed a couple drawers, I was ready to paint.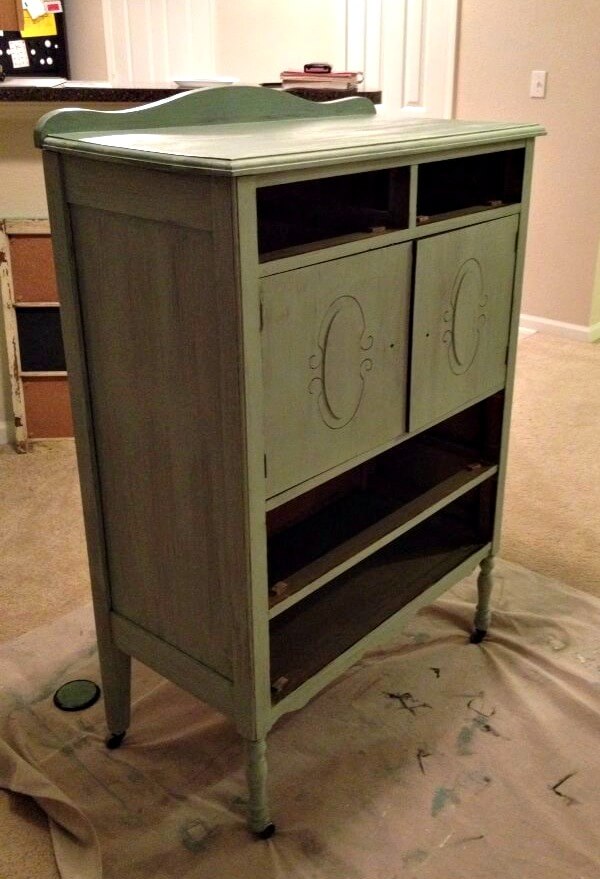 The Facebook fans decided at this point, after just the first coat, that this piece might be worth paying attention to.
So then I used Valspar Glaze to make it look even more antique-ish, and then sealed it in with Polycrylic. We had a fun time with the glaze, because the boyfriend likes to critique my work as I go. But using glaze on top of chalk paint is a little tricky (and might be why they created aging wax*) because when you wipe the glaze off with a wet rag, the chalk paint wants to come off too. So you have to tread lightly.
*I don't use the wax because I don't think it's durable enough. I want to finish my pieces with polycrylic, and if I use the clear/dark wax to antique them I won't be able to use it. 
So anyways, the boyfriend is critiquing away. "Why do you do ____?" "You should try doing it like _____." So I let him do the top so he could teach me how to do it/figure out how hard it was. While we waited for his work to dry, we went out to eat and to a movie with a couple friends. When we came back inside I just busted out laughing. It looked terrible! So anyways, I taught him a lesson and fixed his work. Too funny.
Ok, enough stories. Here's what you're here for. Heed the warning about lighting from the beginning of the post. And in an additional warning, I must admit I'm not a photographer and have no eye for angles, so I just tried them all!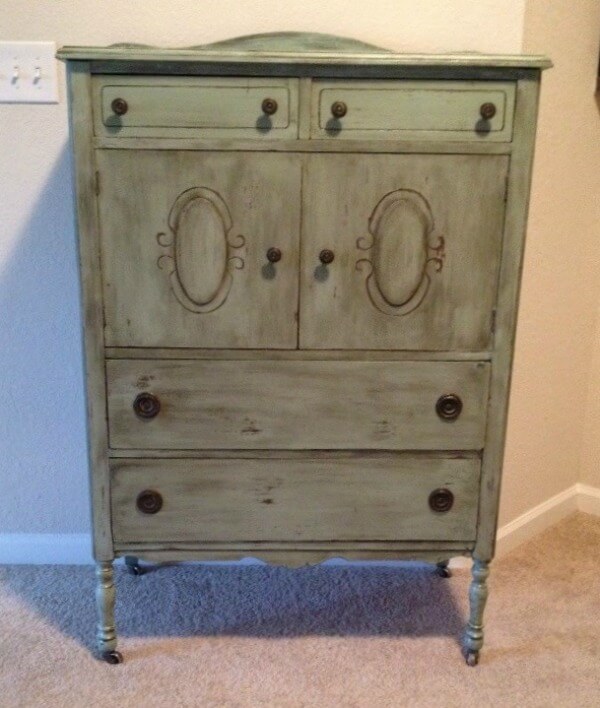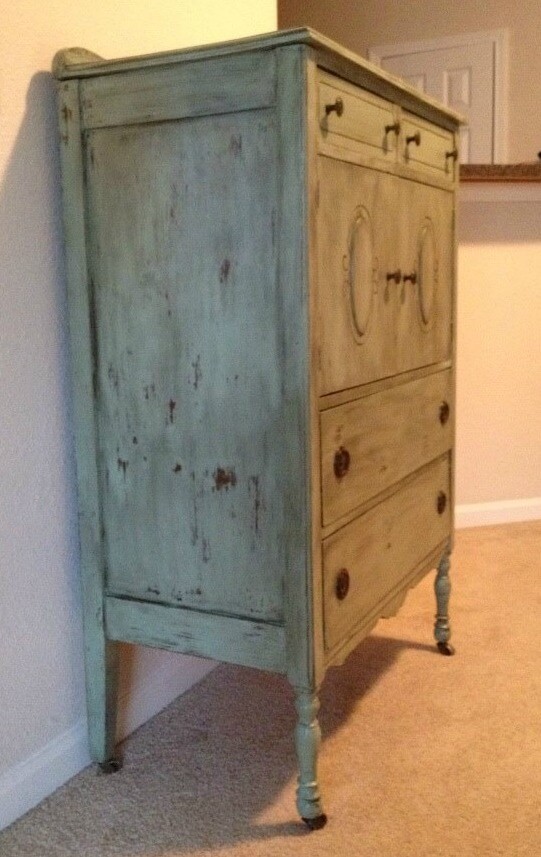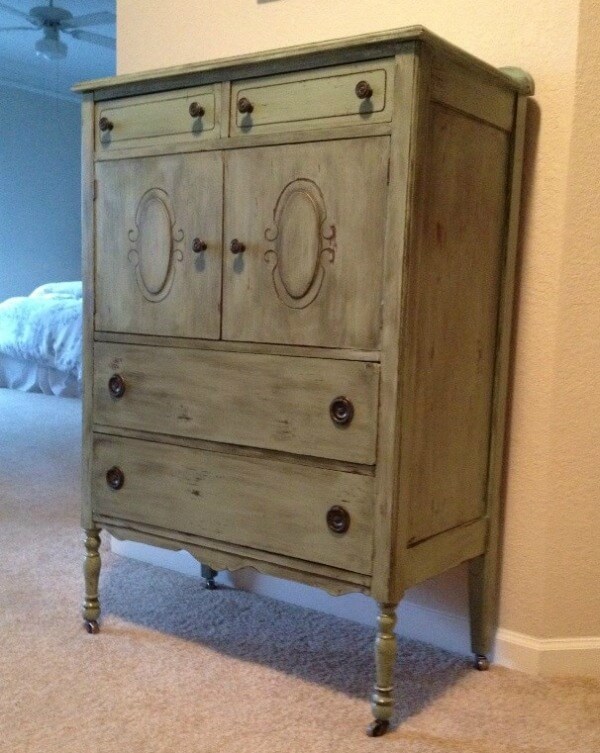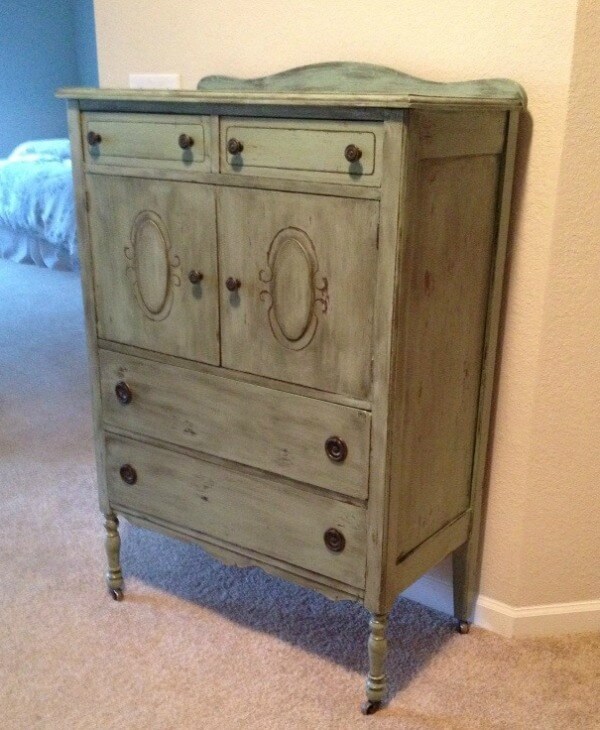 AND THE FACEBOOK FANS WENT WILD!!! I even had a share from a complete stranger! Yes I'm an amateur. 
And now I'm just going to present the tragedy the way you rip of a band-aid to get get it over with.
Basically, it wasn't secure in the back of the truck as we took off to add it to my booth. It fell over, face forward (if it had a face) with nothing to catch its fall. All looked well until I attempted to put all the drawers back in that I'd removed for the ride. The top left drawer wasn't going in. It was then that we realized the side was a bit busted up from its fall.
Unfortunately we didn't have all the tools necessary to fix it right away. Will did some pushing and pulling and it looks acceptable now, and honestly I still think it's an awesome piece, but it's still unfortunate. It's Will's no one's fault and these things happen, so it's okay. I just hope we can fix it soon so that it is in perfect condition for it's new forever home.
Sorry I let you down, Facebook fans. 
So that is the tragedy of the best piece I ever had. I'll let you know if there's a happy ending or not. We're still working on that part.
Comments
comments