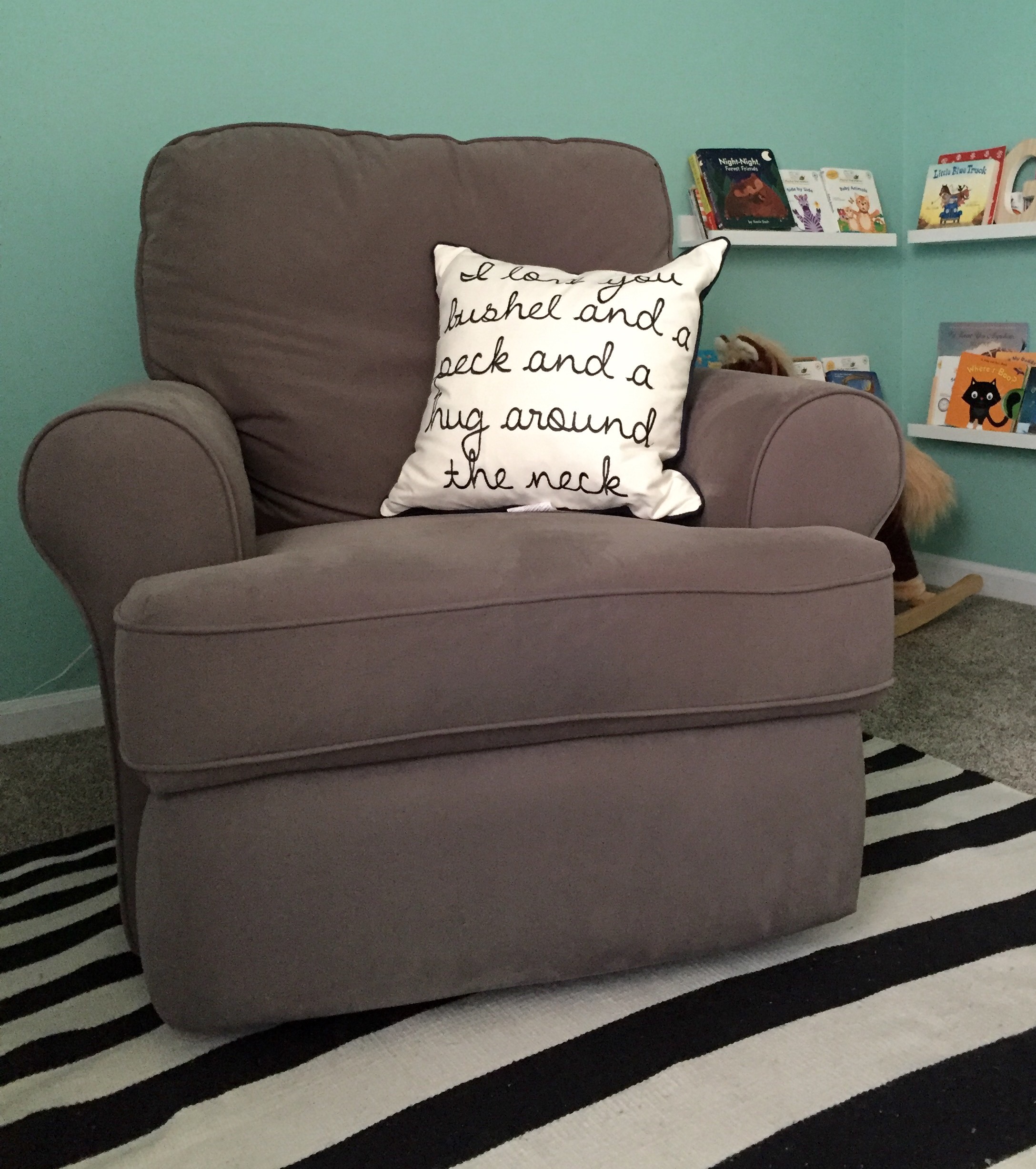 When we bought this chair, a part of me felt guilty. Of course I needed it, just like everything else I needed when in reality I had no idea how much use it would get when the baby was here. But I probably could have chosen a more affordable option, without a recliner, maybe a small wood glider or something, but we splurged because I assumed this is where I'd spend the most time.
We got it home and realized there was barely enough room for it. There definitely wasn't a cozy corner to place it in, and instead it basically sits in the middle of the room between the crib and the dresser.
I imagined rocking in it with a newborn and being able to lay back in the middle of the night while nursing, dozing off peacefully with my baby. I hoped we would spend a lot of time there, but I didn't know that this chair would eventually represent the trials and triumphs of new motherhood. This chair has seen the good, the bad, the ugly and the best parts of being a parent.
I struggled with nursing for nearly 5 months in this chair and I fed countless bottles in this chair.
I struggled with a newborn in this chair in ways that are only comparable to a pro wrestling match and I've had the magic touch that puts a baby to sleep in an instant in this chair.
Some days I spent my whole day in this chair when I had way too much to do and wanted to be anywhere else and some days I threw away my to-do list to spend a couple hours cuddling my baby in this chair, because he was too cute to put down.
I logged so many hours staring at my baby in this chair, and so many hours staring at my phone in this chair, researching everything baby, and googling "symptoms" and mindlessly reading the same Facebook and Instagram posts time and time again.
I spent so much time rocking him in this chair while mentally counting the ounces he ate each day and doing the math for what I thought he'd need the next day and the next week and next month.
I slept overnight in this chair a few times checking for a fever over and over and wishing for daylight, wondering if I would recognize if he was actually sick and needed treatment or if the thermometer was broke while trying to get as close to sleep-like rest as possible.
I've sat in this chair pondering if I was making the right choices for my baby, and I've sat in this chair confident that he has everything he needs.
I cried when I was lonely, overwhelmed and frustrated in this chair, and I've felt the most grateful I've ever felt in my life for the ability to create something so perfect.
This is the place where we retreated to during the first three months when my arms and legs were tired from hours of pacing the house with a cranky baby when he needed me the most and this is the place were I sit to read him stories or to watch him play on the floor and entertain himself.
My baby is growing up and while we still rock regularly in this chair, it's starting to look a bit different. Mostly I'm trying to hold him close while he tries to sit upright so he can see everything and dive over the edge of the chair while I hold on to his ankles. At first he was so small I needed pillows to prop him up, and now he takes up my entire lap on the rare occasion he sits still long enough to sit on it. Soon, we won't need this chair at all, except for story time before bed.
I'm not typically a sentimental person, and I'm not even all that attached to this chair in particular. In fact, my husband thinks it's a bit uncomfortable and will probably want to replace it when we decide to expand our family again. However, I was right about one thing: I did need the chair.
Comments
comments