For a Liebster Award that is. By my good bloggy friend Julie from It Freezes Beautifully. Thanks lady!
Here are the rules:
Liebster Rules
1. Link back to the nominating blog.2. Answer the questions given by the nominator.
3. Give 11 random facts about yourself.
4. Nominate 5-11 other blogs with fewer than 200 followers.
5. Ask the nominees 11 new questions.
6. Contact the nominees to congratulate them and let them know they were nominated.
Here are the questions and answers I was asked by Julie:
1. Where's your favorite place to travel?
Anywhere. Seriously. If I could do anything, I would just spend all my time traveling, until I got homesick. Then I'd come home for a couple days and then leave again. I've been to Brazil and Mexico. I'd love to go to Europe REAL SOON.
2. Do you have a favorite reality tv show? Which one?
Sister Wives all the way. Will gets so annoyed by them because all they do is cry. I think it's completely reasonable. I'd be crying all the time too if my husband had 3 other wives.
3. Do you enjoy cooking? Favorite dish?
Um, not really. My favorite "dish" is roast beef and noodles. When someone else makes it.
4. Cotton Candy or snow cones?
Snow cone. Nuff said.
5. If you could buy yourself anything in the world, but it could only be one thing, what would it be? Why?
Let's go back to the travel question. A reusable plane ticket that could take me anywhere anytime I want.
6. Do you have any extreme fears? Spiders, clowns?
Heights maybe. I can get up, but not down. I will not do a roller coaster. The wacky worm freaks me out. You come out of the apple and there's quite a drop down after that. (Look it up – it's at World's of Fun in KC.)
7. Which Disney character would you be?
Any of the princesses. Probably like Cinderella. I used to honestly believe I was adopted and someday I would turn into a princess and find out my parents weren't really related to me. That never happened by the way.
8. What was the best day of your life (so far)?
Is it bad that I really don't have an answer for this? I've had a lot of good days, but I think I'm still waiting on the best day! :)
9. Is there a talent you wish you had?
I would just like to be REALLY talented at any one thing. I'm decent at a few things (not sports) but I've never had anything I'm super talented at. I just want one thing that's mine.
10. What's your go to snack?
Icees. Ice pops. Whatever you call them. The flavored ones you keep in your freezer. I eat like 20 of those a day.
11. What are three blogs you read regularly?
Only three? The Daily Tay. House of Rose. And of course It Freezes Beautifully.
Ok – 11 Facts about Myself:
1. I eat the topping off my pizza first, then the crust. Every time.
2. I always planned on doing something with a foreign language, like being an interpreter, until I job shadowed one. Her and her sister were both interpreters and they both failed the test 3 times before becoming certified. They were raised in a Spanish speaking family.
3. I can, however, speak a little Portuguese. I was a foreign exchange student in Brazil my junior year of high school. I wanted to become fluent in Spanish, so I opted to get sent somewhere in South America. I ended up going to the only (major) country in South America that doesn't speak Spanish.
4.  When I get strep throat, I don't get a sore throat. Instead I break out in an awful rash. It's gross.
5. I used to be obsessed with drawing cow cartoons. I tried to get my dad to let me draw him a logo for his farm, but he said no. :( This is one I drew predicting the end of the night of my friend's 21st birthday. She was supposed to be the one on the ground while I was standing up fine. That ended up the other way around. Oops.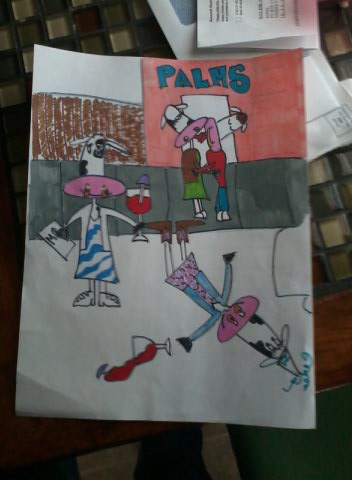 6. I could eat ice cream for every meal, every day. I will never turn down ice cream.
7. I still wrestle with my family. I can't imagine you ever get too old for that. And families that don't allow wrestling? Weird, I tell ya. So not how I grew up.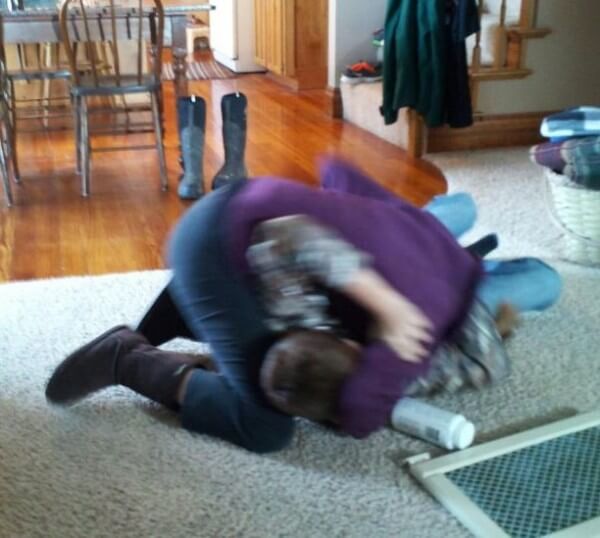 8. My brownies are always too thin because I eat most of the batter while I'm mixing it up.
9. I have friends from a ton of different countries. Some of them are from studying in Brazil, but I also worked with others during different college jobs. Here's all the countries I can think of off the top of my head: Scotland, Ireland, England, Mexico, Denmark, Belgium, Germany, Iceland, Brazil, Argentina. Well that's ten. That's a fair amount I'd say.
10. I showed my coworker that cow picture, and she said I need to make one about the ladies in the office. Guess what I'm doing after work today….:)
11. I'm the most impatient person ever. The hardest part of life for me is waiting for the next thing to happen. Except death. I'm okay with waiting awhile for that. But everything else? I want it now. I hate not knowing how things will turn out.
Here are the blogs that I nominate for the Liebster Award!
Candice from All Things Walker
Desiree from The Rad House
Nancy from From Haus to Home
Lauren from Lolloped
Crystal from My Mom Mansion
And here are your 11 questions ladies!
1. What's the biggest splurge purchase you've ever made and do you regret it?
2. What's your favorite flavor of ice cream?
3. How do you treat yourself after a bad day?
4. Flats or sandals?
5. Do you prefer to be dressed up or in comfy clothes?
6. What's the best date you've ever been on?
7. Do you wear socks with your Uggs? If so, short ones or "mom socks"?
8. What's your favorite social media channel and why?
9. How far is the furthest place you've ever driven to?
10. What's your go to color of nail polish?
11. What's for dinner tonight?
Thanks a ton to Julie for nominating me! :)
Comments
comments