As I sit here to write this, I can now see that this weekend was productive, even though I don't feel like I've accomplished anything I set out to do this weekend. I've been feeling disappointed in myself for this, so I'm glad blogging helps put it all in perspective for me sometimes.
The boyfriend ended up getting called to work for Saturday morning, so we didn't get to search for awesome furniture like I planned. We went out in search of a couple sales this morning and they were over, or non existent. That sometimes happens. We did finally make it to an estate sale, but the stuff I really wanted went really fast. We walked out with an ornate frame and a rocking chair the boyfriend insisted I needed to help fill up space in my booth.
A house down the street was having a garage sale as well, so I picked up $4.00 worth of Christmas stuff to add the holiday spirit to my booth for the November sale. Hopefully I'll find some time this week to browse Pinterest for some Christmas ideas so I will be prepared this month.
On Saturday, I drug the boyfriend shopping for an ottoman and a chair for our desk. For now, I'm only looking at TJ Maxx and Marshall's so hopefully I won't have to pay full price for these. Marshall's had the perfect ottoman a couple weeks ago, but of course I didn't grab it, and this time around there wasn't anything I liked. But we DID find a chair for our desk for $70 (normally $130). I'm finally incorporating some of the "breezy" look that I love!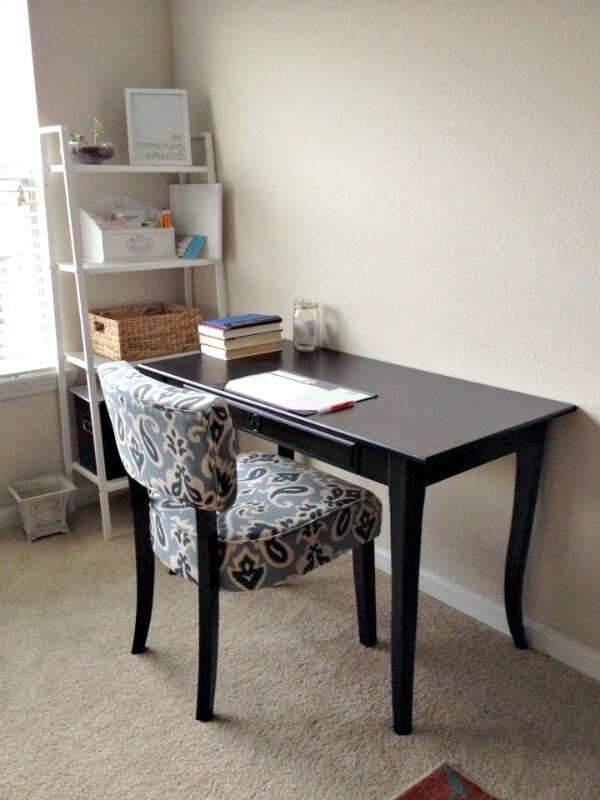 Now I just have to work on adding some pretty touches to the wall. I'm thinking some simple canvasses with motivating quotes plus maybe a couple pretty pictures. And then a calendar to keep track of our busy schedule. Maybe I should make my own out of chalkboard vinyl???
I also finally admitted to the boyfriend that the living room rug is not going to work. It doesn't let me add any more color to the room without looking too busy. I was relieved that he wasn't annoyed with me for that decision and instead is happy to be on the lookout for a neutral rug that will work better for us. Maybe I will get my breezy living room after all! Someday when we buy a house, the rug we have now might find its place in a dining room.
Have you ever bought something you really loved, but then later had to admit that it just doesn't work? 
Comments
comments