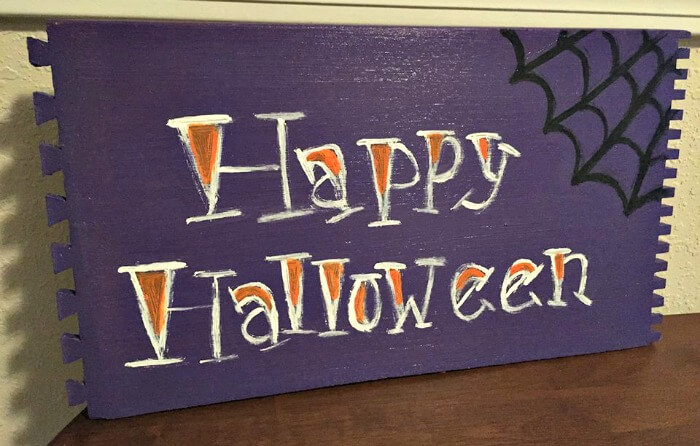 I have finally completed a project to share with you guys! I haven't done much fall decorating or visited a pumpkin patch or carved pumpkins this fall, so I thought it was about time for a Halloween project. Plaid Crafts sent me a box of craft supplies, including glow-in-dark Mod Podge, so I thought a little sign that can shine all night long for Halloween would be the best way to put it to use.
The sign itself is made from the side of an old drawer I had laying around my garage. And Will thought I would never need those for anything. 
So all you need for this project is:
– something to paint on – a piece of wood, an old drawer, anything really
– acrylic paint – I used orange, white, purple and black
– glow-in-the-dark Mod Podge
– Paint brush
Step 1: Paint your background color and let dry – I chose purple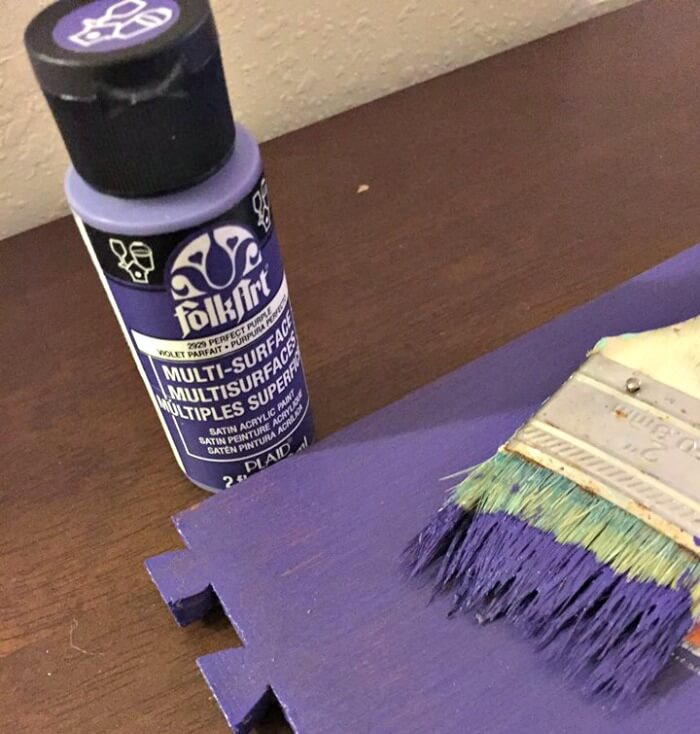 Step 2: Paint your letters. You could use stickers or stencils if free handing scares you. I wasn't going for perfection with my letters, so I'm glad that worked out :)
Step 3: Add a Halloween-y themed image to add more interest, maybe a skull or a pumpkin? I added a spider web for good measure.
Step 4: Trace your letters with glow-in-the-dark Mod Podge.
Here is it in the dark: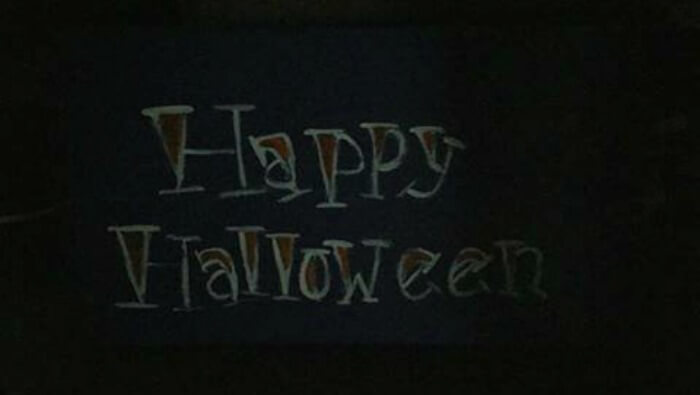 My only regret is not making the spider web glow too. I will say that you will have to apply a few coats of the glow-in-the-dark Mod Podge to really get it glowing, and it works better with your light colors.
I think this would be perfect hanging on your door on Halloween or sitting out by a bowl of candy!
Plaid actually has a lot of products you may not have heard of for creating fun projects. For more inspiration from Plaid, check these out:
DIY Faux Sugar Skulls with Collage Clay by Mod Podge
3 DIY Decoden Cell Phone Cases with Mod Podge + Dollar Store Jewelry
Plaid Blog – Introducing Mod Podge Modeling Clay
Plaid Decoden Pinterest Board
Mod Melt Spider Webs

Follow Plaid on Social Media: Pinterest | Facebook | Twitter | Instagram | Google+ | Newlsetter |Website | Blog | YouTube
I wrote this post as part of a paid campaign with Plaid Crafts and Blueprint Social. The opinions in this post are my own.
Comments
comments