Seriously. Half the time, I'm not even sure if I do.
Like lately, my method of picking out paint colors was just going to the Antique Store, looking at the color chart, and picking one that looked "Breezy" to me. Except when I wasn't looking at all the other breezy things I like, everything has the potential to look breezy. And I thought I should mix it up so it's not boring and bland.
But the problem with that is that my booth didn't have a cohesive look. (What? I'm still talking about the booth? Yes.)
Don't get me wrong, it was good enough for the first month. I didn't quite know what to expect, and I'm happy with how it went.
But now it's like baseball. After the first strike, you've seen it and know what you're looking for. I want a cohesive booth next time. I sucked at all sports, including softball, so I hope I'm better at this little challenge.
So I decided to create a mood board of sorts to help me figure out how I want to be branded. I went through a couple magazines and cut out all the things that make me feel "Breezy". Please tell me this makes sense to someone besides myself?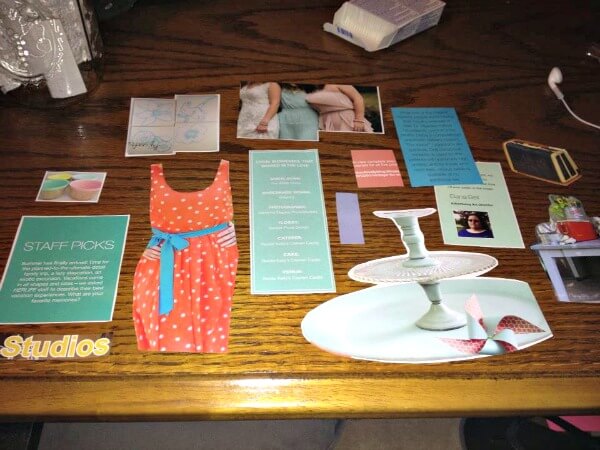 Apparently I didn't get them mod podged to a poster board like I planned. In fact, I'm sure by now the boyfriend has turned on the ceiling fan and they're all over the floor and he's frustrated with me for not finishing this project…
But none the less. There is it. BREEZY….I get that that's a lot of the same colors. A lot of blues and mints and kind of greeny colors with only small pops of coralish colors. But it's cohesive. And it's breezy. And maybe I don't want too much variety. Heck, I'm on the 3rd floor of a warehouse FULL of vintage, antique and shabby chic stuff. If my style doesn't fit someone's liking, I'm sure there's another booth that does.
But I have to stay true to what I want. Or else it's going to look like a pile of random furniture. Which may or may not be how it looked last weekend.
So to my wonderful, helpful (sometimes a little too helpful) friends and family: As you're helping me pick things out for my booth, I know you have the best intentions, but keep in mind…this is what Breezy looks like. I don't want to mix in primitive and vintage and antique just to please everyone. I want it to be "Breezy".
Comments
comments