This week things are busy around here! I have at least 3 pieces of furniture to paint between now and Thursday, because Friday I'll be attending a local blog conference, Go Blog Social KC. I'm trying to stay productive and push back the excitement of seeing some of my favorite blog friends and the stress of worrying about how I'm going to dress my bump for the occasion. I think a shopping trip is in my very near future! Now on to why you're really here…a before and after.
A while back Will's cousin dropped off this old desk for a paint job.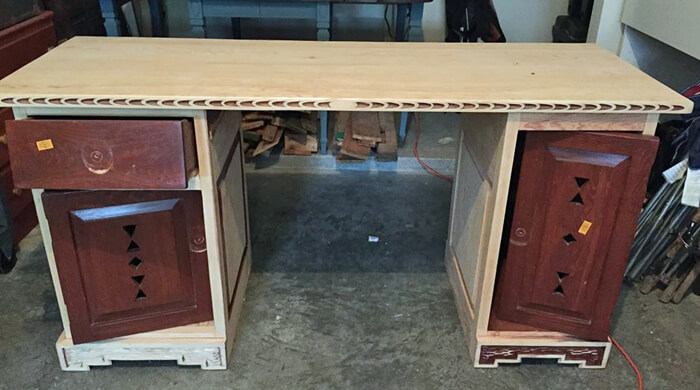 I was conflicted about painting it because drrrr…I'm not going to turn down business, but can you see all the work he'd already put into it? That bare wood is the result of hours and hours of sanding, and we all know how terrible sanding is. But then apparently I got over it, because it is now one of my favorite painted pieces.
I stained the top, painted the bottom with 2 coats of Navajo White, and then used Rustoleum Glaze in Java Brown to bring out the details and add a little more dimension.
I loved the detail brought out by the glaze. To be honest, I was bored with the desk before I even started. But the further I got the better it got. And now, it's definitely one of the pieces I'm the most proud of! Don't get me wrong, I love a good piece of distressed furniture, but I felt like this one has more of a professional finish to fit the professional style of the desk.
Will's cousin and his wife were both really happy with how it turned out, and that's the most important part! :)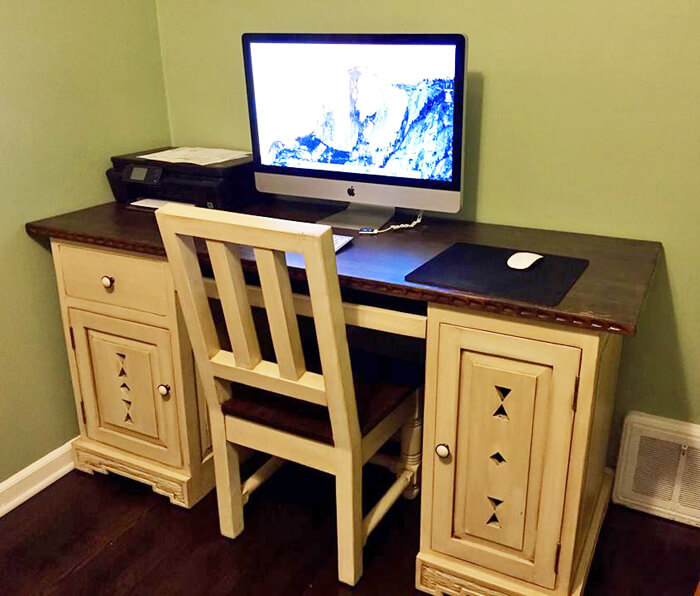 Comments
comments